Item #

Y4902

Compliance

NCHRP 350 Approved
Note:
This product ships in two separate packages. Sign mounting hardware sold separately. Order Y3465 (2-1/2" bolt set).
Product Information
Details
Phoenix Sign Stand Description And Installation
The Phoenix is a 40 lb. portable rubber sign stand that has been tested in accordance with the NCHRP Report 350 and meets the standards set for crash tests when used with a 48" diamond sign. With integrated grab handles, it is one of SafetySign.com's easiest sign stands to move around and stack securely in storage.
This product includes a rubber base, steel base plate, 6' white post, and a locking pin to secure the post to the base plate. With a unique approach to mounting signs, the Phoenix can mount any of the following sizes: 12 x 18"", 12 x 6"", 18 x 24"", 24 x 24"", 30 x 30"", 36 x 36"" and 48 x 48"" signs with 2-3/8" center holes.
This product ships in two packages: one for the rubber base + base plate and a second for the 6' post + locking pin. Please note, this product does not include sign mounting hardware. Y3465 (2-1/2" bolt set) is sold separately.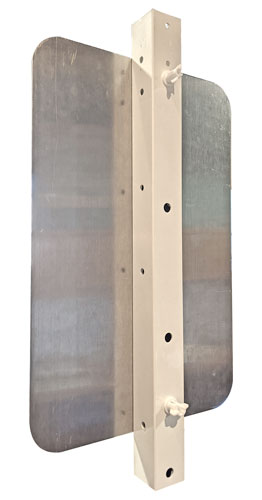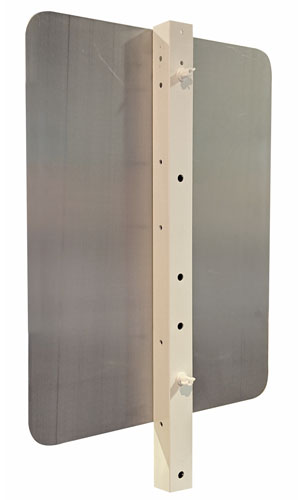 What do you need to know about this sign stand?
The new Phoenix Sign Stand is designed with a pre-drilled square post to accommodate the most popular sign hole patterns.
You can raise and lower signs anywhere along the six-foot long post for more flexibility.
This Stand is NCHRP-350 approved with a 48"x 48" .080 aluminum sign, as well as, other size signs and with an optional barricade light and flags.
The recycled rubber base with steel plate firmly grips the road surface.
Two Phoenix Sign Stands can also be used to support barricade panels to create a type III barricade
To assemble, first place the steel base plate on the ground, then on top, place the recycled rubberbase and insert the square post into the center opening and secure it with the steel locking pin.
Once this is complete, you can attach variable sign configurations to the Phoenix Sign Stand.
Together, the rubber base and steel plate weigh 40lbs.
Set includes: Recycled Rubber base, 1¾″ x 6' long pre-drilled square pole, Steel Base Plate, Steel locking pin
Sign mounting hardware is sold separately. We recommend the 2½″ tamperproof bolt set Y4901 or the 2½″ standard bolt set Y3465.
Mounts any of the following sizes: 12w x 18h", 12w x 6h", 18w x 24h", 18w x 18h", 24 x 24", 30 x 30", 36 x 36" and 48 x 48" signs (sign layouts with 2 holes)
Illustration of Stand with Different Sign Sizes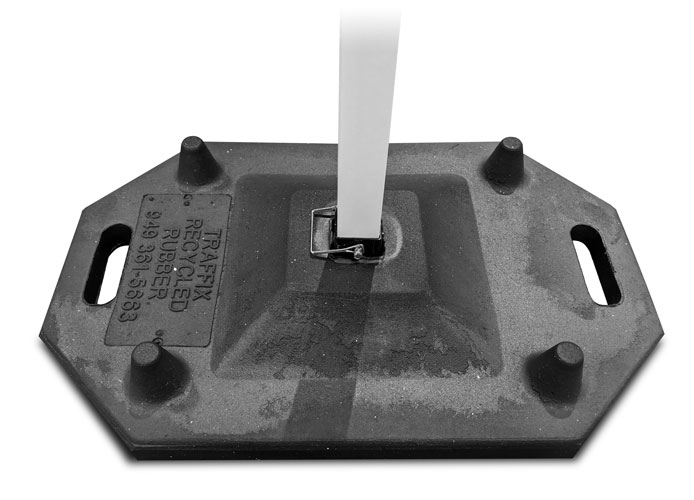 Reviews