Safety Check Label
Safety check mini-labels with By and Date fields are for safety protocol and compliance. The objective of safety check cards, with 10 mini-labels per card, is to notify staff of safety testing. These safety check mini-labels on a card are useful tools to help protect the health and safety of personnel, but are not a substitute for required protective measures for eliminating or reducing hazards.
Product Information
Details
Electrical Mini-decals (10 Per Card)
Construction:
Labels are digitally or screen printed with UV inks.
Adhesive Backed Vinyl labels are supplied with round corners only.
Before applying, surface must be clean, oil free and dry.
Labels do not have any overlamination.
Labels are easy to write on with pen or permanent marker.
Mini-Labels are supplied in cards of 10 labels, 10 cards per package.
Labels have been die cut, making it easy to peel off and apply.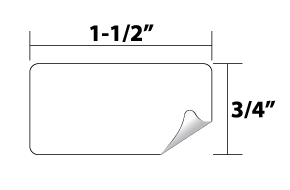 Reviews