Item #

A5009-JA

Compliance

NFPA 10 Portable Fire Ext.
OSHA Fire Protection
Product Information
Details
2-Way Wall Projecting Signs
How and where do you mount 2-Way signs?
2-Way signs can be mounted on door frames or walls.
These signs are supplied with 2 holes at 0.218″ in diameter, for permanent mounting.
Signs are doubled sided (the same information is printed on each side).
The purpose of a 2-Way sign is to alert incoming and/or outgoing traffic, at the same time, of any hazardous conditions in the area, the required safety precautions to be taken when entering the area, location of safety equipment or emergency exits, etc.
Signs are printed with digital or silk screening UV inks on .060″ thick Polystyrene (High Impact Plastic).
Polystyrene is a rust free, chip and crack resistant plastic.
These signs have been designed for the following applications: wall or door frame mounting.
Signs do not have any overlamination.
Image / Text on sign is printed directly onto the sign material.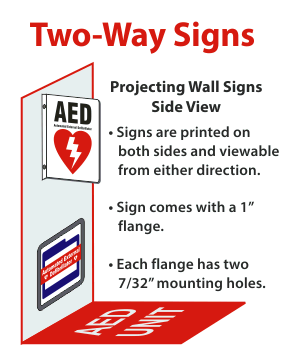 What do you need to know about Safety Signs?
Environmental and facility safety signs are usually larger because they are observed at further distances. These signs usually contain lesser amounts of information for visual clarity at a distance. Signs should be placed in a clearly visible location and should be protected from damage and obliteration.
When safety signs are distinguished by their color code (ANSI Z535.2) they become useful tools to help protect the health and safety of personnel at the workplace.
Safety signs are a supplement to, and NOT a substitute for, the required protective measures for eliminating or reducing the hazards in the workplace.
Reading and understanding safety signs displayed on machinery or around your facility will help minimize the possibility of accidents and increase hazard awareness.
Safety Sign Functions & Objectives Are:
The objective of safety signs is to draw attention rapidly and precisely to objects and situations capable of causing specific injuries or accidents.
To alert or warn personnel about workplace hazards of which they may not be aware of.
To restrict access to areas that present dangerous conditions.
To inform people of safety requirements.
Provide general information and directions.
Remind employees where PPE equipment must be worn.
Show where emergency equipment or exits are located.
Indicate where certain actions are prohibited.
Safety Sign Recommended Viewing Distances
ANSI Z535-2007 standard uses a ratio of 25 ft of viewing distance per inch of text for Favorable Reading Conditions, and a ratio of 12 ft of viewing distance per inch of text for Unfavorable Reading Conditions.
Determining the safe viewing distance of a sign depends upon many factors: lighting, background, type font and visual acuity. Other factors to consider in determining sign size include: the complexity of the message, the reaction time necessary and the angle the sign will be seen from. In many situations it is better to use multiple smaller signs that are strategically positioned than one large sign.
Reviews