Note:
Concrete and Asphalt Mounting Anchor Kit with 4" Lag Screws. For use with Fixed Base Y4946 and 78FLEXYPOST
Product Information
Details
Concrete and Asphalt Anchors
---
Concrete and Asphalt Anchors Kit Include all of the following:
4 - 1/2" x 3" long concrete orange anchors
4 - 1/2" x 4" long -partial thread- lag screws
4 - Washers
Materials Needed for Installation:
Drill with 5/8" (16mm) Bit
Small Hammer
1/4"Allen Wrench
One of the following: 3/4" (19mm) socket, 3/4" (19mm) wrench or adjustable wrench.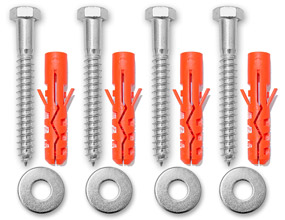 ---
Installation Steps
Place Fixed Base on surface, align to desired position. Using the base as a template, mark the four (4) holes to establish pattern for drill.
Drill four (4) holes 3" (75mm) deep using a 5/8" (16mm) drill bit. Clean holes.
Using a small hammer gently tap the anchors into the holes.
Place base over the anchors. Put washer onto lag screw. Start lag screw through base hole into anchor. Use 3/4" wrench to tighten lag screw snug into base.
Place the sign or post into base, check for proper alignment and hand tighten all four socket cap screws. Use 1/4" Allen wrench to snug screws.
Reviews