Product Information
Details
SignGuardian™ Tamper Resistant Fence Brackets
The Tamper Resistant SignGuardian™ Bracket works with signs that have 3/8″ mounting holes and is for use on 2″ diamond chain link fences.
Brackets are manufactured from tough nylon 6/6 and include stainless steel hardware for maximum durability. The unique design allows each bracket to lock into the links of the fence, making it tamper resistant once the securing screw is tightened down.
This product is available as a package of 2 brackets and hardware for mounting one sign with 2 holes, or a package of 10 brackets and hardware for mounting five signs that each have 2 mounting holes.
Attach your signs to any 2" chain link fence with our new SignGuardian™ brackets. These unique, patent pending, tamper resistant brackets are easy to install from one side of the fence and help prevent sign theft.
SignGuardian™ brackets are made of nylon 6/6, which is extremely strong.
Lock on Feature™ holds the SignGuardian™ securely to the fence mesh and it becomes tamper resistant once the sign or banner is installed.
Lock on Feature™ is inaccessible behind installed sign.
Nut is locked inside slot.
Installation Process when Mounting PARKING or TRAFFIC Signs to a fence: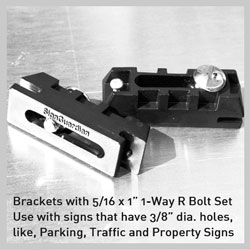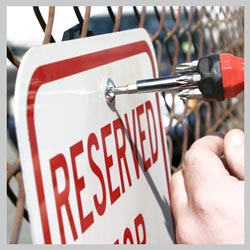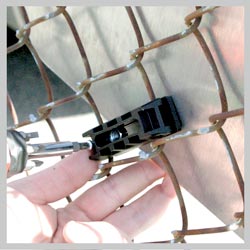 Reviews