Magnetic Number Set For Steel Scoreboard
2" numbers for use with steel scoreboards only
Item #:

R4955
Note:
2" magnetic number sets to be used with Steel Scoreboards only (do not use on aluminum)
This 2" Magnetic Number Set For Steel Scoreboard has informational messages for safety protocol and compliance. A Magnetic Number Set For Steel Scoreboard is a helpful resource to aid in the protection of the health and safety of staff, and is not an alternative for required protective measures for eliminating or reducing hazards. This 2" magnetic number set will only work with steel scoreboards.
2 × 2¼″

Material
Packaging
Sku
Quantity/Price
.030″ Magnetic Sheeting
Sold in Packages of 10 - each set includes 0 thru 9
R4955
$15.70
Special Freight Arrangement:
Due to the size of this product, freight shipping will be required. You may contact our customer service team for a quote or you can place your order and a customer service representative will contact you about freight shipping charges.
If you would like to use your own freight carrier, please include your freight carrier account in the special instructions box at the bottom of the checkout page before placing your order. A customer service representative will be in contact with you if there are any questions.

Phone: 800-274-6271
Fax: 800-279-6897
SafetySign.com guarantees that we have the lowest price on every item we manufacture, plain and simple.
If you find a lower price, we'll match it!
Material Specifications:
Outdoor Durability:
Service Temp Range:
Max Recommended
Viewing Distance*
Up To
Please see Size Tab below for more details.
* Under favorable viewing conditions.
Compliance
Size
Material
Reviews
SAFETY SCOREBOARDS
To view and print a PDF version of this page, click on this link: SafetySign.com Safety Scoreboards PDF→
To Learn about the Materials used in the making of this sign, refer to the Tab called "Material Descriptions..."
Sign Construction:
These signs are available in two different materials:
1) .060 Impact Resistant Polystyrene (Plastic)
2) 20 Gauge White Painted Steel

Graphics are printed with UV inks.
Hole configuration is illustrated below, these safety scoreboards are supplied with 4 corner holes.
Scoreboards have been designed for the following application:

wall mounting

.
Printed image will resist fading and mild chemicals.

Record the injury free days on the signs with water soluble markers* or pre-printed number sets (number sets are sold separately).

*Please Note: the brand EXPO Markers are not recommended for use with these scoreboards.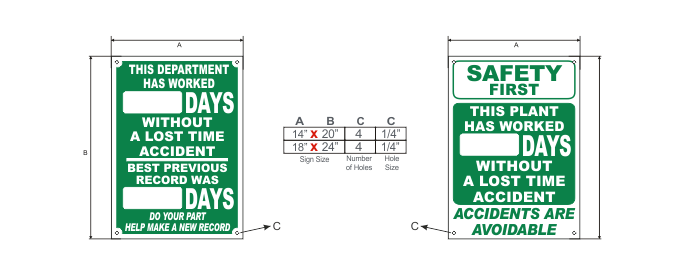 Vinyl Numbers Card: Part No. R4961
Vinyl Number Cards are manufactured with 3.5 mil adhesive back vinyl film.
Numbers are printed Black on White.
10 numbers per card:

0,1,2,3,4,5,6,7,8,9.

Character height:

2"

Card Size: 2-1/4 x 13-1/8"

Vinyl Numbers are sold 5 cards per package

Magnetic Numbers Set: Part No. R4955
Magnetic Numbers Set are printed on .030 White Magnetic Sheeting.
Numbers are printed Black on White.
10 numbers per set:

0,1,2,3,4,5,6,7,8,9.

Character height:

2"

Magnetic Numbers are sold 10 per set.
Size
Width
Height
Average
Text Size
Available Materials
Diagram
2 × 2¼″
2″
2 ¼″
2″
Diagram
Material
Thickness
Outdoor Durability
Service Temp. Range
Available
Sizes

Magnetic Sheeting

0.03" thick magnetic material includes a layer of outdoor white vinyl, resists cracking and chipping, and easily mounts to steel and other ferromagnetic metals. It is flexible enough to mount on curved surfaces and ideal for signage that will be frequently changed.

0.03″
2 to 3 Years
0° to 158° F
| | None | Engineering Grade | High Intensity Prismatic | Diamond Grade |
| --- | --- | --- | --- | --- |
| ATSM D956 Type | – | Type I | Type IV | Type IX |
| Brightness | – | Standard Material | 3x More | 10x More |
| Night-Time Visibility | – | 500' | 1,000' | 1,500' |
| Reflectivity | | | | |