Frequently Purchased Together
Product Information
Details
A Caution High Voltage Barricade Tape has informational messages for workplace and compliance concerns. A Caution High Voltage Barricade Tape is a useful tool to help protect the health and safety of others, and is not a substitute for necessary protective measures for lessening or eliminating hazards.
Compliance
Barricade Tapes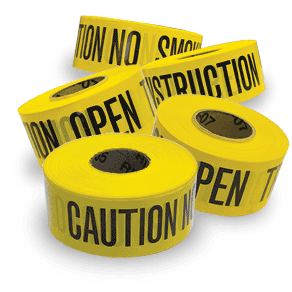 Product Description:
Our Barricade Tapes meet OSHA 1910.144 for marking physical hazards.
The tape is a lightweight, economical, reusable polyethylene.
A continuous repeat of a warning message.
Our barricade tapes can be tied, stapled, or nailed in place.
The tape consists of high visibility safety yellow polyethylene (plastic) with bold black letters.
Indoor and Outdoor use.
Tape Size

3in. x 1000 ft.

Standard letter height

2in.

Material Thickness

4 Mil Polyethylene.

Tape Weight

4.5 lbs.

Test Procedure

ASTM-D-882, Method A.

Specimen Conditions

73ºF / 50% R.H.

Test Temperature

73ºF

Elongation

552%

Transverse Tensile Strength

2,100 psi.

Longitudinal Tensile Strength

2,870 psi.
Reviews