Construction Area No Trespassing Sign
Item #

G2619-AK

Compliance

ANSI Z535 / OSHA
LEED Compliant
ECCN Certification
OSHA 1910.1200(c)
Shipping Declarations
A Construction Area No Trespassing Sign has official ANSI headers for safety protocol and compliance. A Construction Area No Trespassing Sign is a useful tool to help protect the health and safety of staff, and is not a substitute for necessary protective measures for lessening or eliminating hazards.
Product Information
Compliance
Choosing the right safety signs for your construction site can make all the difference when it comes to keeping your workers safe. Which of these signs is the best option?
Although each of these will keep you in compliance with OSHA regulations, C is the best choice. Here's why:
Choose the Best Standard
All four signs are OSHA approved, with
A
representing the common OSHA Style that many of us are used to seeing.
B
,
C
, and
D
represent the latest ANSI Style sign, designed to better communicate hazards and how to avoid them.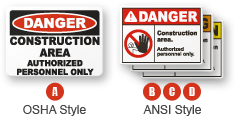 Choose the Right Signal Word
The "Warning" signal word from C identifies a hazardous situation that if not avoided, could result in severe injury or death. This is the preferred signal word for describing the hazards at a construction site because serious injury or death could occur from trespassing, but trespassing onto the work site does not mean an injury will occur, as a Danger sign would imply.
Conclusion
The ANSI Z535.2-2011 Warning sign C represents the best choice for most construction areas because it clearly defines the hazards in question, the seriousness of the hazards in the specific area, is designed to be read quickly, and adds a graphical element that makes the sign easier to understand.
Reviews