In the United States alone, nearly 32 million workers come into contact with chemicals that can be absorbed through skin, inhalation, ingestion, or injection. In order to protect the health and safety of employees, protective equipment is necessary in instances where workers are exposed to toxic chemicals. In this type of work environment, following chemical hazard signs can help you avoid a costly mistake. However, as is the case with one barrel refurbishing plants in Wisconsin, workers can only follow signs if they are present and in the language they understand.
Employees at Mid-America Drum, a plant in St. Francis, were exposed to formaldehyde, mercury, and other hazardous chemicals without proper training, PPE, or warning signs. What's worse is that many employees are non-native English speakers and the plant didn't make use of bilingual signage or perform training in a language their staff fully understood.
The Occupational Safety and Health Administration (OSHA) found five violations at the plant and subsequently issued two citations carrying a fine of $15,550. After a video surfaced of supervisors acknowledging the issues and choosing to ignore them, the plant is also likely to be cited for willful violations of unsafe working conditions.
Although trying to comply with all of OSHA's safety standards may feel overwhelming, it's a task worth undertaking – especially when workers are in contact with hazardous chemicals. Training employees on how to do their job safely, developing safety plans, posting safety signs, and accepting employee feedback can vastly improve workplace safety.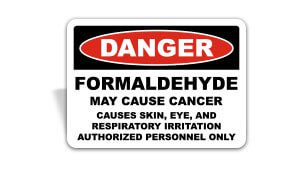 Source:
https://www.jsonline.com/story/news/investigations/2018/02/01/osha-says-workers-exposed-mercury-and-formaldehyde-st-francis-barrel-plant-didnt-get-proper-training/1080973001/
https://www.osha.gov/Publications/osha3084.html