Everyone has the right to feel safe at work. That is why precautions and protocols are integral components of success in any business or industry. These precautions and protocols are designed to ensure that daily operations run safely and smoothly no matter where you are working. That does not mean that there are no workplace hazards are risks, though.
In fact, the Occupational Safety and Health Administration (OSHA) says there are 10 frequently cited standards. Every year OSHA compiles this list based on the results and findings from inspections across all industries. According to their website, "far too many preventable injuries, illnesses, and deaths occur in the workplace that are related to these top 10 cited standards."
Let's look at the 10 most frequently cited standards in fiscal year 2022 as reported by the NSC and what can be done to make sure you are keeping your employees safe and your business compliant.
1) Fall Protection – General Requirements (1926.501)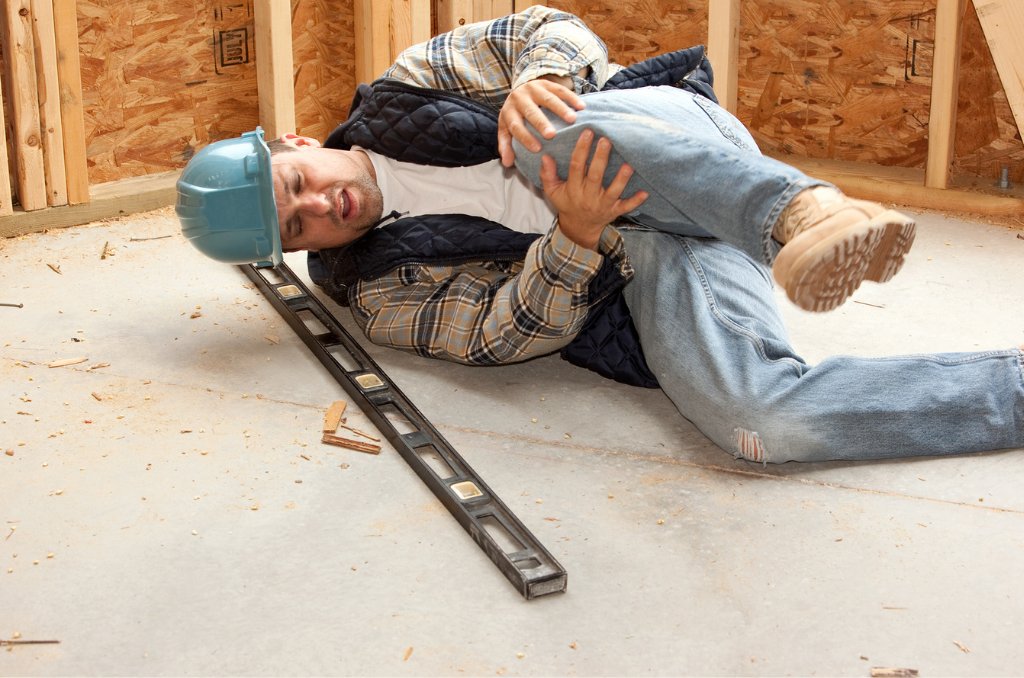 Violations in 2022: 5,260
Falls are the leading cause of injury and death in the construction industry, so the proper use of fall protection equipment is critical to avoid hazards and dangers. An example of a violation of this standard could be the lack of personal fall arrest systems in areas with an unprotected side or edge which is 6 feet or more above a lower level.
A few good steps to take to remain compliant with this standard would be to ensure all construction personnel working in raised areas have the proper training and knowledge regarding personal fall arrest systems.
Furthermore, site supervisors could do periodic safety checks to ensure all equipment is properly in place. Using properly displayed fall hazard safety signs to warn employees of fall hazards is another preventative step you can take to help keep safety a top-of-mind priority.
2) Hazard Communication (1910.1200)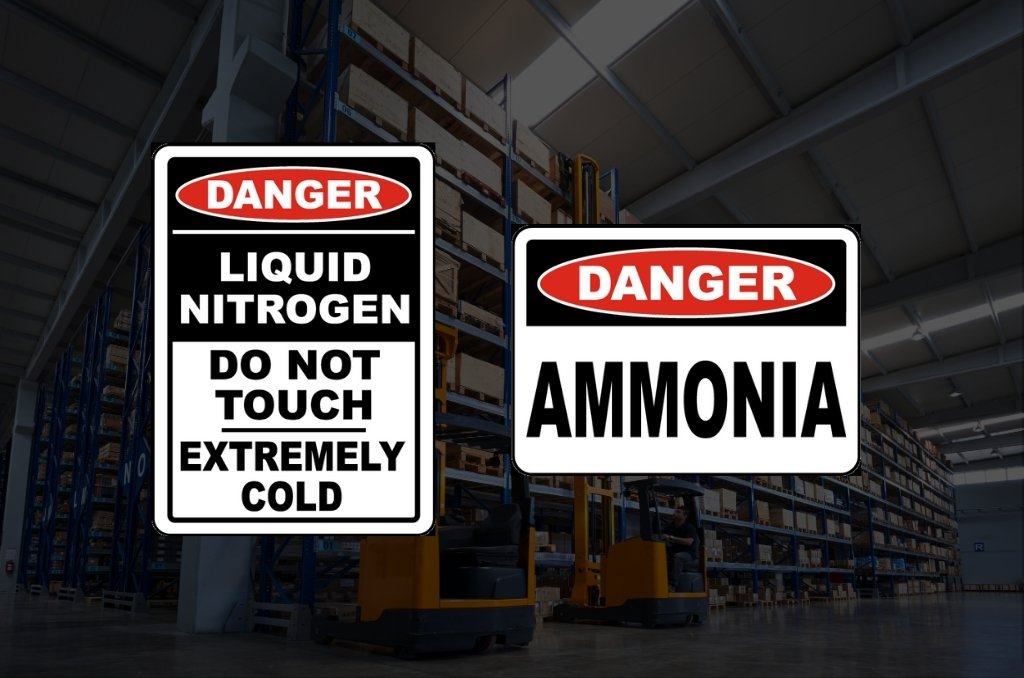 Violations in 2022: 2,424
Clearly labeling hazardous materials during the manufacturing process is a key component of ensuring that the proper safe handling protocols are followed.
A violation of this standard would be failing to classify the hazardous chemicals or materials, failure to maintain copies of any safety data sheets received with incoming shipments of the sealed containers of hazardous materials, not providing employees with training and information necessary for safe work, etc.
There is a long list of hazardous materials that qualify, but here are a few examples of ones that should always be properly labeled and categorized:
Contact with hazardous chemicals can cause short and long-term health problems, so following all safety measures is crucial.
Here are a few different ways you can maintain a compliant status with this standard:
Make sure all labels are intact and not defaced.
Maintain safety data sheets for all incoming hazardous materials.
Provide all necessary employee training.
Keep a written hazard communication program.
3) Respiratory Protection (1910.134)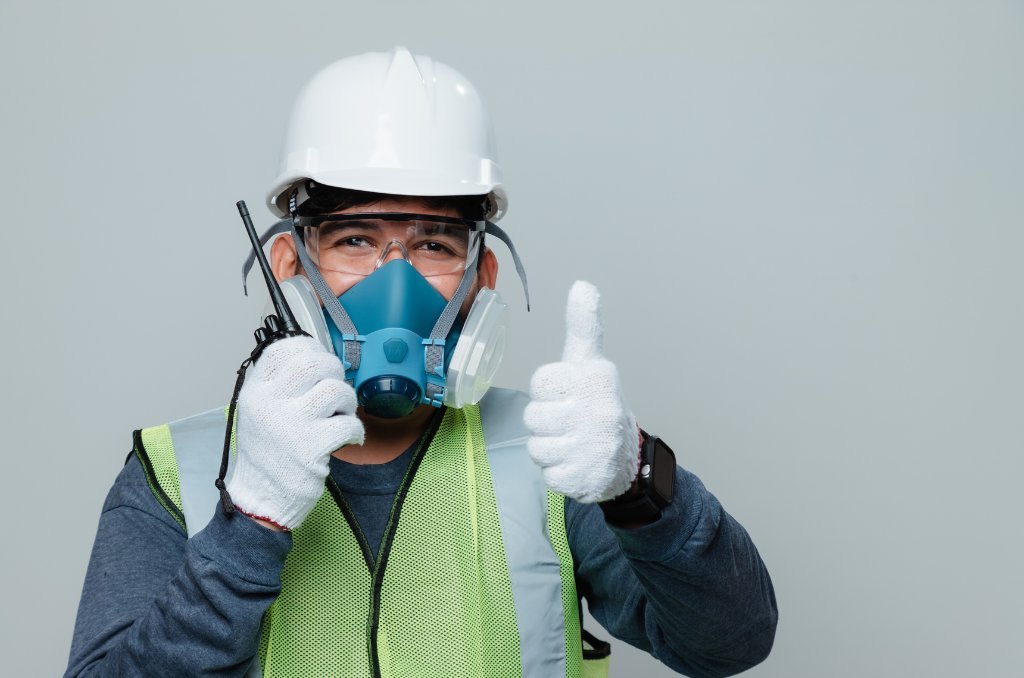 Violations in 2022: 2,185
Proper usage of respirator devices is crucial, especially in industries that involve working with hazardous materials. Both short and long-term medical conditions can be caused by the inhalation of toxic gases, dust, etc.
A violation of this standard could be the lack of a written respiratory protection program, failure to clean or provide maintenance on respirators, etc.
Ensuring your company or facility has a regularly updated respiratory protection program, a schedule for cleaning and maintenance of respirators, and providing the right respirator for the job are some examples of things you can do to stay compliant. At SafetySign.com, we have a variety of respirator-related and PPE signs to help keep those working in hazardous areas safe.
4) Ladders (1926.1053)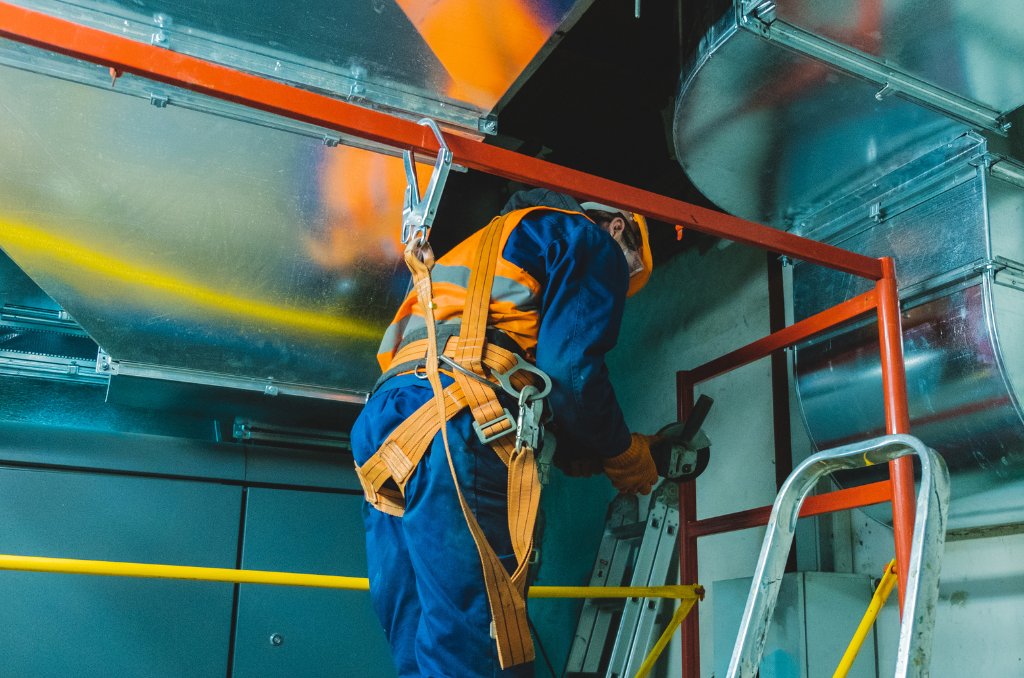 Violations in 2022: 2,143
Ladders are an integral part of work in the construction industry, but they also come with dangers of their own. There are a variety of ways this standard is violated. For instance:
Using ladders not designed to carry the intended load.
Not having the correct amount of space between ladder rungs, cleats, or steps.
Tying or fastening ladders together to provide longer sections when the ladders are not designed for this use.
Taking appropriate steps to double-check all the safety standards for any kind of equipment is important to stay compliant. To prevent a violation of this standard, you should always make sure ladders are all appropriately sized, can carry the necessary amount of weight, and are not fastened or tied in a manner that is deemed unsafe for the ladder design.
Another proactive measure can be taken by using properly displayed ladder safety signs and having all of your ladders up-to-date on inspections with appropriate updated labeling.
5) Scaffolding (1926.451)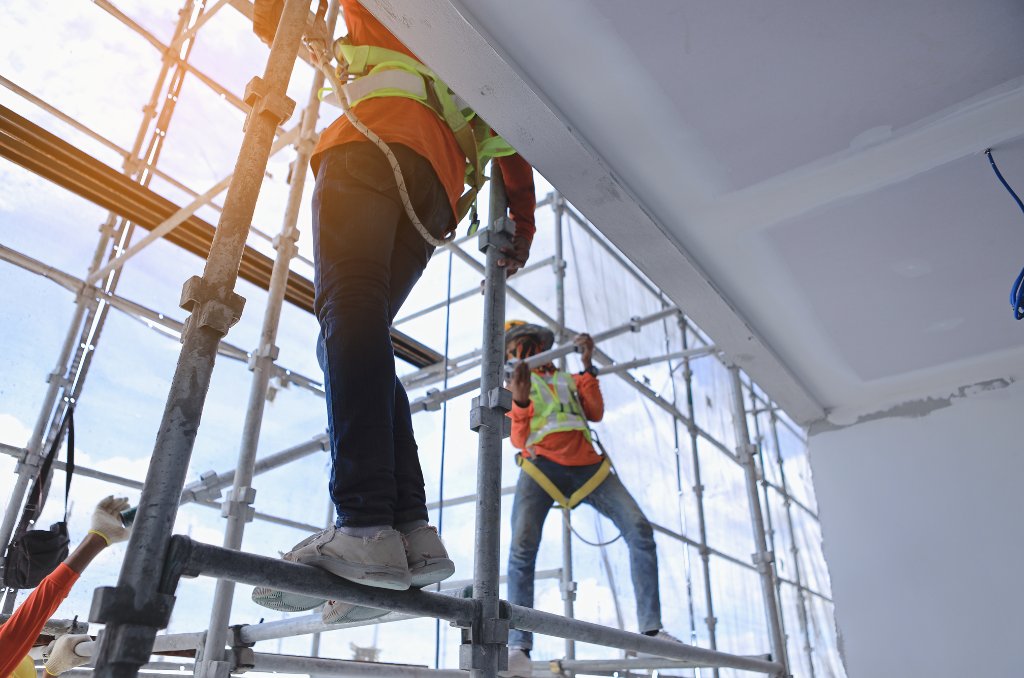 Violations in 2022: 2,058
Like ladders, scaffolding is an integral part of work in the construction industry, but they pose unique risks and can be fall hazards. One example of violating this standard is if a scaffold or scaffolding components cannot carry 4 times the maximum intended load applied or transmitted to it.
Other violations can be from the scaffolds not being connected properly, using the wrong type or size of suspension rope, etc.
Avoiding these violations is key to keeping employees safe from injuries and being compliant. Here are some helpful tips to remain compliant with this standard:
Ensure all your scaffolding and scaffolding components meet all the specific maximum weight-carrying criteria.
Attach your scaffolding properly and with the right mechanisms.
Use all proper PPE for scaffolding work.
At SafetySign.com, we have a variety of scaffold and ladder safety signs and tags to help keep safety a top-of-mind priority for anyone working with or on scaffolding.
6) Lockout/Tagout (1910.147)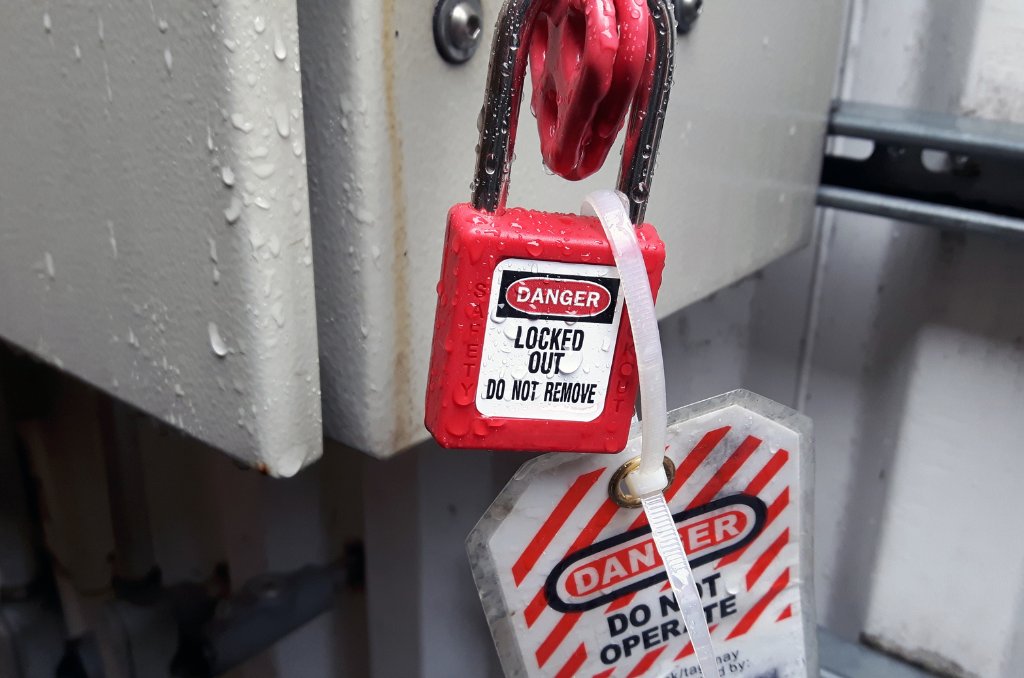 Violations in 2022: 1,977
Controlling hazardous energy is important for employee safety, and lockout/tagout protocols are the best way to prevent injuries and damages caused by the unexpected energization of hazardous energy.
This standard could be violated if the employer does not have an established program consisting of energy control procedures, employee training, and periodic inspections.
Violations can also come from not using proper locks and tags or not properly outlining the scope, purpose, authorization, rules, and techniques to be utilized for the control of hazardous energy.
To avoid violating any part(s) of this standard, lockout/tagout protocols for hazardous energy should always be followed. This means that all locks and tags meet the standard requirements, and all proper training is provided to anyone responsible for implementing lockout/tagout procedures.
For more information on these procedures, please check out our article all about lockout/tagout procedures.
7) Powered Industrial Trucks (1910.178)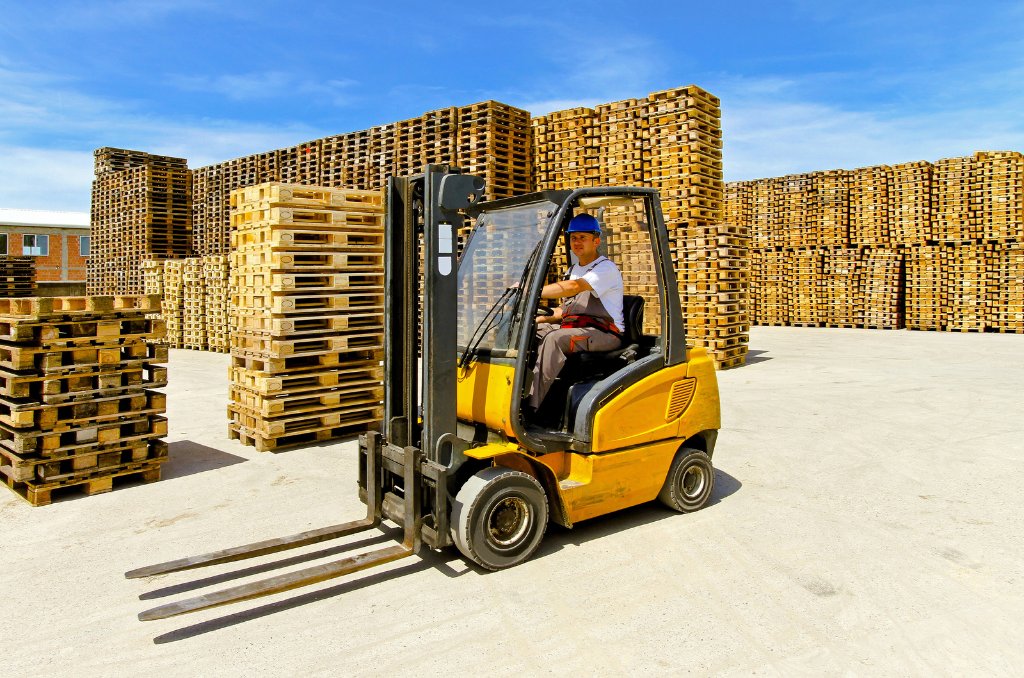 Violations in 2022: 1,749
Many industries utilize powered trucks, such as forklifts, tractors, motorized hand trucks, etc. These can be dangerous pieces of equipment if used improperly, so all safety standards and rules should be adhered to.
A violation of this standard can come in several ways, including:
Utilizing a powered industrial truck that does not have a sticker indicating testing approval.
Failure to maintain nameplates and markings.
Making modifications or changes to the truck without the manufacturer's written approval.
If you are using any kind of powered truck in your work areas, you should follow all of the OSHA standards to keep employees safe and stay compliant. Some proactive steps to take include making sure all forklift labels and nameplates are intact and legible and making sure no changes are made to the truck that could change the safety operation for your employees.
8) Fall Protection – Training Requirements (1926.503)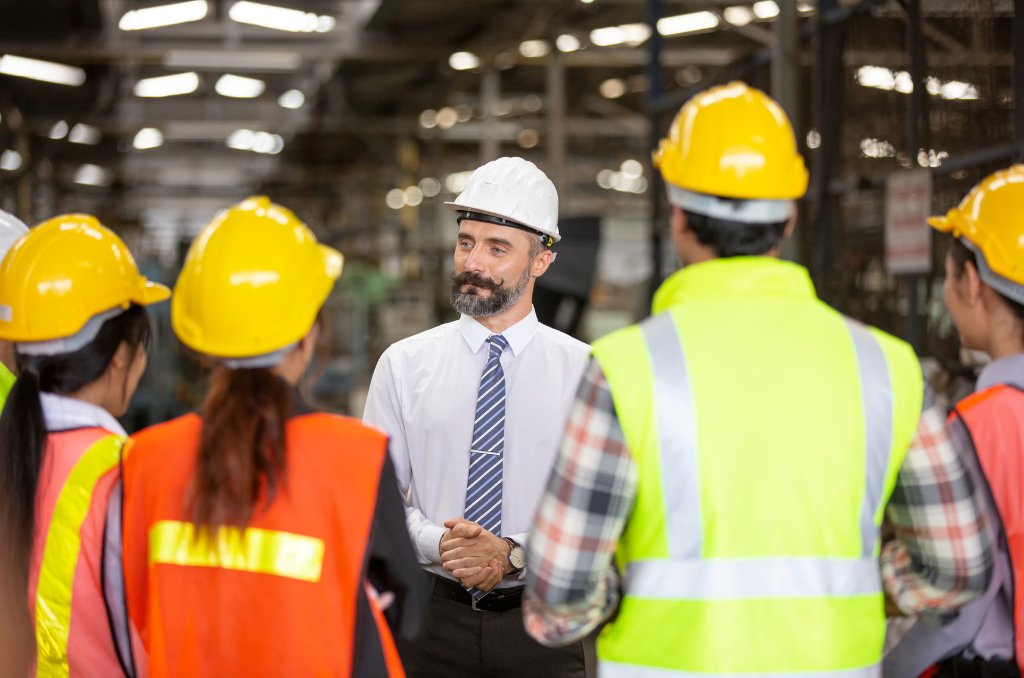 Violations in 2022: 1,556
Falls are the leading cause of construction-related injuries and death, so providing proper training and knowledge to employees is especially important.
There are numerous ways employers can violate this standard, including employing personnel without proper training, failing to provide continuous training, not maintaining training records, etc.
To remain compliant with this important standard, all construction employees should receive all proper training, retraining, and certification(s), including training on the correct procedures for:
Fall protection systems.
Operation of guardrail systems.
Personal fall arrest systems.
Safety net systems.
All other types of personal fall protection.
Another great way to help keep your construction areas safe from fall hazards is by using properly displayed fall protection safety signage. This helps keep safety and awareness a top priority and lets employees know when they are working in particularly dangerous areas.
9) Personal Protective and Lifesaving Equipment – Eye and Face Protection (1926.102)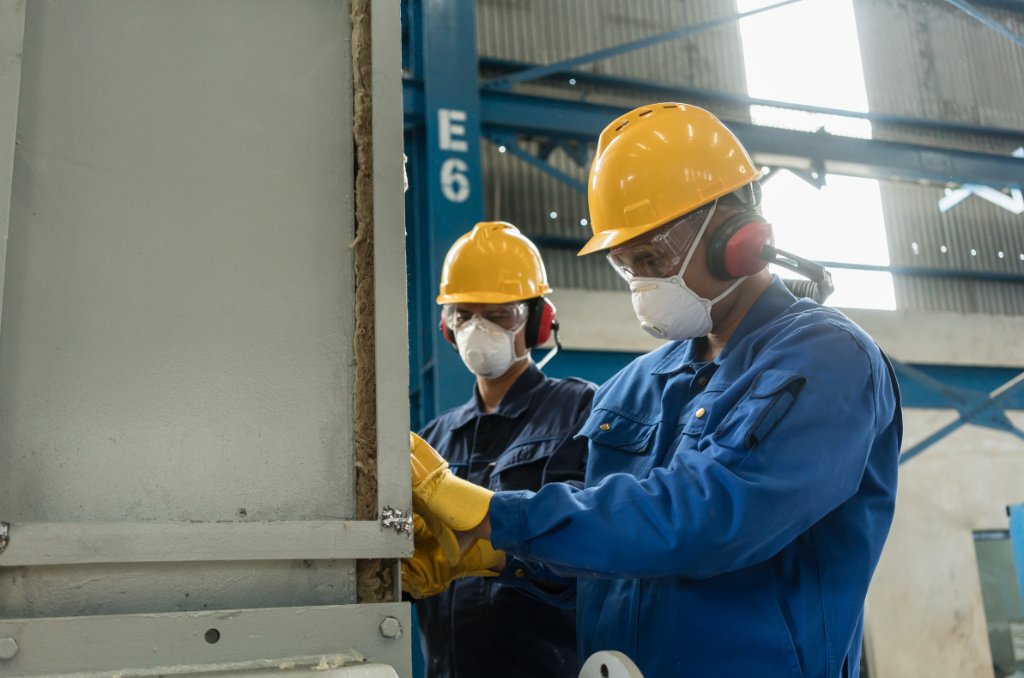 Violations in 2022: 1,401
Eye and face protection is necessary for those working in a variety of industries where threats of physical injury exist. Violating this standard can be life-changing if someone gets hurt.
Violations of this standard can come in many forms, such as employees using protectors that fail to meet the minimum requirements. Some these requirements include:
Must fit snugly.
Must provide adequate protection against the hazards for which they are designed.
Must be durable.
Must be easy to clean and disinfect.
SafetySign.com offers a comprehensive selection of personal protection equipment signs including eye and face protection signs to make sure your employees are aware of PPE requirements.
10) Machine Guarding (1910.212)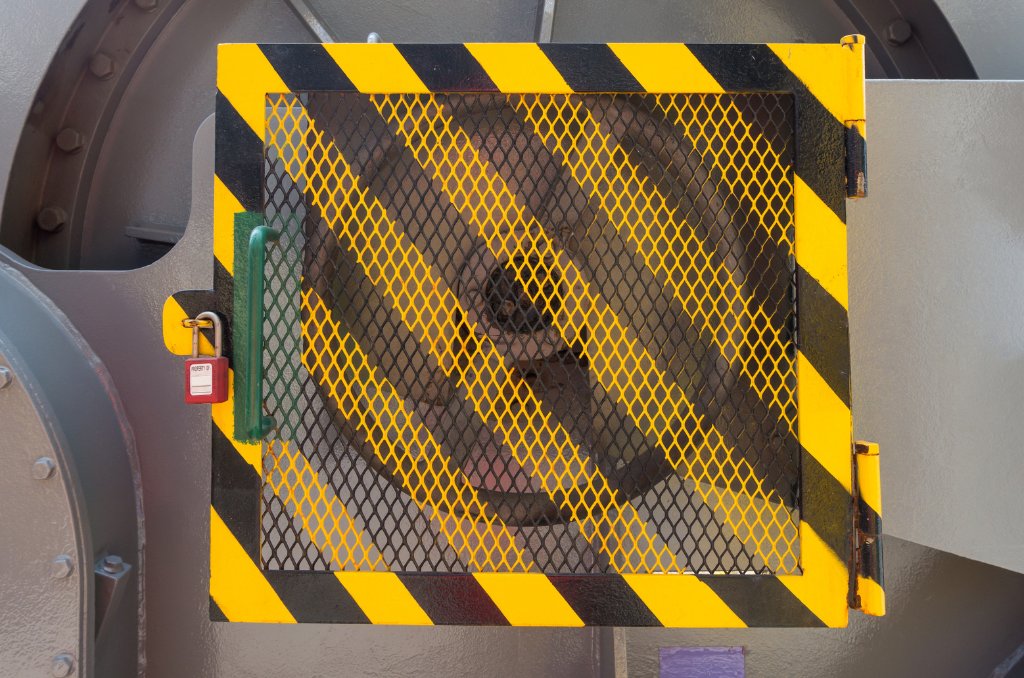 Violations in 2022: 1,370
Machine safety is crucial in all work environments. The dangers range from flying chips and sparks to cuts or other, more serious physical injuries. Machine guarding is designed to protect any employee from these potential dangers. Common violations of this standard can include:
Not having a guard properly affixed to a machine.
Using specialized hand tools that do not permit easy usage and expose the user/employee to potential hand danger.
Not properly guarding blades.
To avoid violating this standard, work environments that require employees to utilize machinery should always be as safe as possible. This can be achieved by making sure all machinery, blades, and dangerous parts have safety guards in proper working order and in a fashion that does not expose an employee to danger zones.
Furthermore, the placement of machine guarding labels and machine safety labels are helpful to remind employees of necessary safety precautions.
Now that you are aware of the most cited OSHA violations, you have a good idea of things to look out for in your own facility. If you find yourself in violation of any of these standards, it is important to make quick and efficient corrections to maintain your compliant status.
If your facility needs new or updated signs and labels to help ensure safety and awareness, SafetySign.com has all your needs covered.