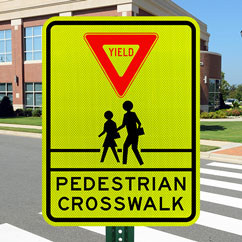 Pedestrian safety is a serious problem in New Jersey. Just in 2017, 184 people died in pedestrian-vehicle crashes, according to the New Jersey State Police. These harsh figures are pushing over 70 cities and towns to participate in a month-long safety campaign called "Street Smart NJ." Garfield, home of SafetySign.com, has joined Street Smart NJ
The majority of pedestrian-vehicle collisions are due to constant distractions. Both drivers and pedestrians are increasingly texting while driving or texting while walking. Unfortunately, this is creating more dangerous streets for both parties.
In just the past couple of years, two different crossing guards were struck by distracted drivers. One of the crossing guards was severely injured in the accident and the other sustained minor injuries. This type of incident is entirely avoidable and that is part of what drives Street Smart NJ.
The statewide campaign focuses on five core messages:
Drivers must stop for pedestrians
Drivers must obey speed limits
Pedestrians are urged to use crosswalks
Pedestrians need to wait for the walk sign at crosswalks
Everyone needs to keep their "heads up, phones down"

Part of the problem, the campaign identified, is that pedestrians overly rely on drivers to stop for them. For whatever reason, pedestrians have the belief that cars must stop for them no matter where they are within a street. However, unless the pedestrian is within a crosswalk, this isn't entirely accurate. Pedestrians should use crosswalks where available, because most have specifically designed Pedestrian Crossing Signs.
Police officers in the Garfield area will be handing out pedestrian safety information and reminding people who are driving and walking to be safe and to look out for other travelers.
Source:
http://newjersey.news12.com/story/39159583/garfield-kicks-off-street-smart-nj-pedestrian-safety-campaign