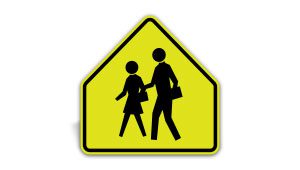 Township leaders in Cranbury, NJ are turning to local youth to create Custom Traffic Signs that encourage safety.
The "Slow Down in Our Town" contest is a bit of competitive fun open to children of any age up to 18 years old. There are four age groups, under 5, 6-10, 11-14, and 15-18 years old.
The local municipal building is handing out free lawn signs to anyone that wishes to participate in the competition. The only requirement is that the signs are designed by a child or teenager – with no supporting help from parents.
All children who participate in the contest are recommended to place their completed signs on the front lawn of their home for judging. The winning contestants will be rewarded with prizes donated by local businesses. While only a handful will win, all who enter the contest will be honored by the mayor and police chief.
The contest is part of the township's efforts to improve traffic safety in the area, a growing concern for many residents and public officials.
With concerns mounting, local Police Chief Rickey Varga explained the department's multipronged campaign to residents. Outside of the contest, some efforts include township-wide Pedestrian Crosswalk Signs, distracted driver enforcement, a traffic complaint system, and a children's bicycle and pedestrian safety education program.
Good luck to all who participate in this wonderful contest. Perhaps this type of outside-the-box initiative is needed to reduce traffic violations.
Source:
https://www.monroenow.com/news/local/cranbury/police-chief-pens-letter-addressing-traffic-safety-in-cranbury/article_d189cca8-72fa-11e8-bdcc-77f8a99ef842.html