Plane Crashes On 287
Latest Update:
– Five people, including One Dog perished in the wreck
– Two Investment bankers worked for Greenhill and Company Bank believed to   have children and wife on board
– All lanes on 287 have been restored as debris was collected
– Socata TBM-700 turboprop aren't required to have Black Box but doesn't mean they don't have one
– The pilot was warned about icy conditions and pilot experience is currently unknown
Update (2:14pm): Recent reports suggest that 5 people died when their small plane headed for Georgia crashed into route 287.  The State Troopers have said that there were three adults and two children, which increases the fatality rate from 3 to 5 people.
Around 10am this morning, a single engine plane appeared to lose a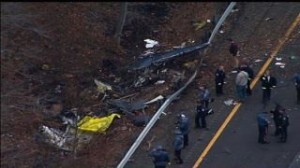 wing and spiraled into the median and exploded on 287 close to Morristown and Harding NJ.
A new development says that there was a faulty transmission in the plane but still being investigated.  As News 12 has reported the Socata TBM 700 single-engine turbo-pop has crashed and show charred wreckage that scatters close to a mile.
Be sure to follow road signs and directional traffic signs to ensure safe driving and to follow detours during the duration of the investigation.
Update (11:58am):  The small air plane that has crashed on Route 287 around 10am is still being investigated.  All lanes are still closed but they have opened up the shoulder on the north and southbound so people may pass.  Currently 287 is backed up for miles and it has been confirmed by Jordan Siegel that no vehicles were involved in the horrific plane accident.
News 12 is reporting that there were 2 parents and a child aboard the plane where the wreckage can be seen scattered for miles.  The state police can confirm that the single engine plane flew out of Teeterboro Airport and was attempting a crash landing onto 287.  When the plane that crashed on 287 tried to crash la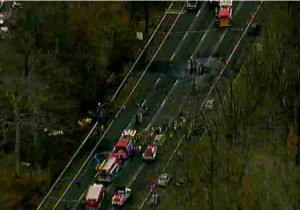 nd due to a  broken wing, they skidded into a wooded area.
The plane that crashed into the media on the freeway was said to have crashed violently and in a split second.  If you live in the Morristwon area, you should be expecting delays since alot of the diverted traffic is going through the center of town.

Original Story: The New Jersey State Police are reporting a small plane crashed into 287 in Morris County by Morristown.  Lt. Stephen Jones has confirmed that three people may have died in the plane crash on 287, close to exit 35.
A witness, Shona Strenberg, was a few cars behind when the plane came crashing down onto the highway right in front of her.  She explains how the plane smacked the highway and it sounded silent, until she saw the explosion.
There was said to be a lot of fire and big clouds of black smoke at the scene on 287.  It has been confirmed that you can smell burning and burnt rubber all the way into Morristown.  Shona Strenberg also stated that it seemed like it was trouble prior to the crash as she saw something breaking off the plane.
The State police have shut down some of the north and southbound lanes on 287 to investigate.  Will keep you updated as the story unravels.