At SafetySign.com, we strive to manufacture the signs and labels needed to make your workplace safer for personnel and visitors. In order to continue offering unparalleled products, we constantly research and manufacture the most up to date signs and labels on the market. The newest addition to our product offering is our revamped selection of Arc Flash Labels. With the introduction of anti-slip arc flash floor labels and up-to-date write-on arc flash labels, we will meet the demands of even the strictest safety manager.
Write-On Arc Flash Labels: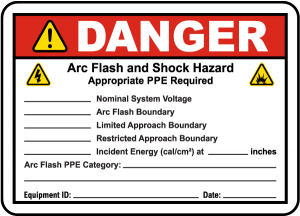 All of our arc flash write-on labels are compliant with both the NEC and 2018 NFPA 70E standards. Most labels are offered in two different durable materials and sizes – making them a great choice for a variety of electrical equipment. Each write-on label is also available with a self-laminating flap to further enhance the lifespan of your new product and protect any markings you need to make on the label itself. If our labels do not meet your exact specification, you also have the option to design your own label.
Arc Flash – Keep Clear Floor Labels:

The new arc flash floor labels offer unmatched levels of visibility. They feature a waterproof anti-slip over-laminate and are designed specifically to be placed on the ground in front of energized electrical equipment such as meter socket enclosures, switchboards, and motor control centers. By placing the label directly in front of the equipment, you can help notify qualified personnel of possible arc flash hazards or remind them that electrical panels need to be kept clear for access and working purposes.
Multilingual Arc Flash Labels:

Many of our new labels were made with workplace diversity in mind. With our multilingual arc flash labels, you can communicate potential hazards to English and Spanish speaking personnel at the same time. These labels are perfect for any diverse workplace that needs to warn employees of the dangers that arise from working on energized electrical equipment. Need your multilingual label to feature a language other than English and Spanish? You can design your own label to reflect any translation necessary.
With all of these new additions, we hope that we can make an impact on the safety and well-being of all workers performing maintenance on electrical equipment in your facility.