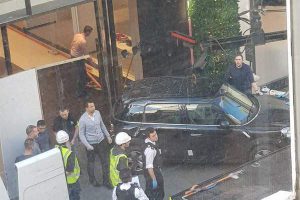 Who says that a Caution Wet Floor Cone has to be used solely in instances where there's a wet floor? One Selfridges security guard clearly didn't get the memo, because today he's being hailed as a hero for trying to thwart a smash-and-grab robbery with nothing but a cone in his hand. If all of this sounds a little absurd, that's because it kind of is.
In London, an armed gang used a VW Golf and a Mini Cooper to smash into the luxury department store. While they still managed to steal designer handbags estimated to cost in the tens of thousands of pounds, little did they know, a security guard was there to single-handedly keep them at bay.
CCTV footage shows the guard running towards the Golf wielding the cone in an attempt to "scare off" the raiders. He was eventually forced to dive out of the way as the car veered towards him. Although clipped by the bumper, he thankfully didn't sustain any serious injuries.
According to one detective from Westminster police, they're in the process of putting the pieces together:
"This raid was targeted and lasted a matter of minutes. My team are busy collecting witness accounts and recovering vital CCTV footage of the burglary at the store and of the suspects leaving the scene."
"Thankfully nobody was injured. I'd like to appeal for those who may have been in the area at the time and saw the individuals involved, either at the scene or fleeing, to get in touch with police and send us any images and footage that they may have."
For those of us who aren't planning on fighting off armed robbers, there's still tons of use in owning a floor cone. Floor cones help people avoid wet spots and therefore keep them safe from slips and falls. With the winter months and subsequent snow filled days ahead of us, now is a great time to prepare for slippery floors.
https://www.regionsecurityguarding.co.uk/selfridges-security-guard-hailed-hero-attempting-stop-gang/