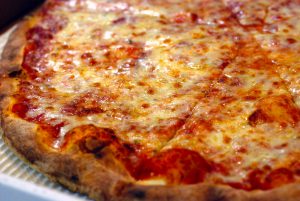 There are some people who love pizza and then there's Mike Roman. Since he was 4 years old, Roman has only eaten pizza for dinner. He is now 41 and deserves every ounce of praise heading his way.
On a recent podcast, Mike said his mother allowed him to eat only pizza for dinner because of how picky he was. During his formative years in school, Mike would have peanut butter sandwiches every day for lunch (so at least there was some variety). However, once he started working, Mike switched it up to pizza for lunch and dinner.
How does Mike refute those who say it's unhealthy to eat pizza every single day for 30 years? "Pizza has three of the four basic food groups," he replies. He also let the podcast host know that despite his eating habits, he has no health problems and manages a healthy weight.
In case you were wondering, his pizza of choice is plain with no toppings. He also eats out at local pizzerias instead of making it home.
His pizza obsession hasn't hindered his dating (now married) life either. He explains that whenever he would go on a date, he would always take the person to a place that offered pizza. He even had pizza on his wedding day and honeymoon.
That's what you call dedication and for that dedication someone should make him a custom sign to celebrate this milestone.
Source:
https://www.northjersey.com/story/life/food/2018/10/11/hackensack-nj-man-has-eaten-pizza-every-day-over-30-years/1603730002/