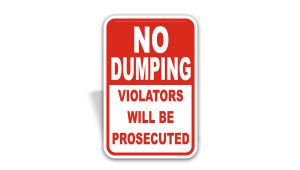 While it is never condoned, if you're going to dump your trash somewhere, you should probably make sure it's not in front of a video surveillance camera. Especially when the land your dumping on has No Dumping Signs and Video Surveillance Signs posted throughout the area.
Nevertheless, some people never learn and so we end up with an Ohio couple being arrested for dumping their trash within Hocking County Wildlife Preserve. The man and woman were caught on video throwing a television, tires, a vehicle bumper, and several smaller items into the woods near Sand Run Road.
After the incident was recorded, the Hocking Country Sheriff's Office and the Ohio Division of Wildlife asked for the public's help identifying the pair. The video quickly went viral, racking up tens of thousands of views on various social media platforms.
Based on the tips received, the sheriff's office was able to identify the two individuals as Corey Webb and Amanda Pyke, of nearby Perry County. After being arrested, both confessed to dumping items at multiple locations throughout the wildlife preserve.
Webb and Pyke were charged with littering on state property and operating a vehicle in a non-designated area, both of which are misdemeanors.
In case you're curious, littering in Ohio is punishable by fines up to $500 and 60 days in jail. By definition, litter is any trash thrown, discarded, or dropped by a person onto public property, private property not owned by the individual, or into waterways.
Outside of being an eyesore, the reason littering and dumping is taken so seriously is due to the health and safety hazards it poses to people and wildlife.
If you see someone littering, you are urged to contact local law enforcement.
Sources:
http://www.keepohiobeautiful.org/images/uploads/66872-B%20Rack%20Card.pdf
https://fox45now.com/news/local/ohio-sheriffs-office-looking-for-2-who-illegally-dumped-trash-in-wildlife-preserve-area