Last week, emergency crews responded to a chemical plant explosion near Duson, Louisiana. The explosion and subsequent fire broke out at FlowChem Technologies. Shortly after, reports suggested that thick plumes of black smoke billowed over a nearby town. Local law enforcement agencies urged residents and businesses within a one-mile radius of the plant to evacuate the area. Thankfully no injuries occurred during the explosion, but the events were enough to cause waves of panic.
Since hazardous chemicals can leak into the atmosphere, panic is understandable during chemical plant explosions. While the exact cause of the fire is still unknown, several chemicals contributed to the fire. One of these chemicals, Xylene, used as a solvent in the printing, rubber, paint, and leather industries, can attack the central nervous system, with symptoms such as "headache, dizziness, nausea and vomiting."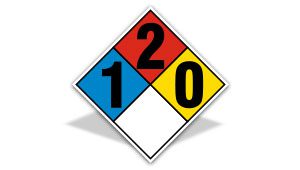 In situations where chemicals are being used, emergency responders rely on NFPA Diamonds. NFPA 704 Diamonds were designed to provide a general idea of the hazards a material poses and the severity of these hazards as they relate to emergency response. In more specific terms, these signs assist in planning for effective fire and emergency control operations, including cleanup and hazard evaluation by designated personnel and engineers. For the FlowChem explosion, responders likely used this information to decide whether or not an evacuation was necessary.
Within a couple of hours, officials decided that an air quality check was not necessary and that it was safe for residents to return home. FlowChem, meanwhile, will remain closed until clean-up concludes.
To learn more about NFPA Diamonds, please see our article on NFPA 704 Signs and Labels.
Sources:
https://www.cbsnews.com/news/fire-chemical-plant-flowchem-technologies-duson-lafayette-louisiana-today-2018-05-03-live-updates/
https://www.ncbi.nlm.nih.gov/pmc/articles/PMC2996004/