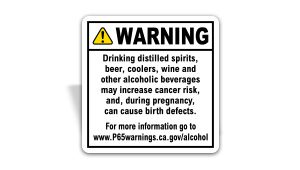 The Food and Drug Administration (FDA) has no reservations quarreling with a California ruling that requires coffee sellers to place cancer warnings on their products.
Since 1986, when the Safe Drinking Water and Toxic Enforcement Act was proposed and passed, California has had a law that demands companies selling products deemed to be carcinogenic by the state to include a Proposition 65 Warning Label.
Acrylamide, which is a "byproduct of roasting coffee," is on the list of Prop 65 carcinogens. So, in 2010, the nonprofit Council for Education and Research on Toxics filed a lawsuit in the Los Angeles Country Superior Court against major coffee retailers operating in the state, such as Starbucks and 7-Eleven. Despite the fact that "a human would need to consume 35,000 cups of coffee each day to face [cancerous risks]," a judge ruled that coffee shops need to begin displaying Prop 65 Signs.
Public health experts and agencies, including the FDA, are publicly aghast by the decision.
The World Health Organization has noted that there's no good evidence that coffee itself can cause cancer and they're not alone. FDA chief Scott Gottlieb issued a public statement in which he warns: "Simply put, if a state law purports to require food labeling to include a false or misleading statement, the FDA may decide to step in."
Interestingly enough, this isn't the first time that California and the FDA tangled over acrylamide. Both in 2003 and 2006, the agency sent out letters to the state, arguing against putting warning labels on whole grain breakfast cereals.
If history tells us anything, it's that this isn't the end of a very long and drawn out legal battle. Until then everything concludes and the dust settles, sit back and enjoy your morning cup of joe.
Sources:
https://reason.com/blog/2018/08/30/ca-fda-cancer-warning-coffee-prop-65
https://gizmodo.com/dont-tell-people-coffee-causes-cancer-fda-warns-califo-1828724589