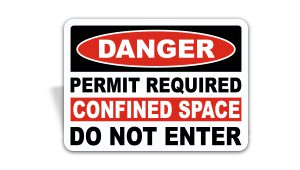 After three employees were killed and two others were critically injured in an explosion aboard a Calvert City, Kentucky towboat, the U.S. Occupational Safety and Health Administration (OSHA) cited five contractors for safety and health violations. Collectively, the five companies received 55 violations totaling $795,254.
OSHA's investigation determined that the explosion was a direct result of employees cutting and welding in an atmosphere containing flammable gases. Due to this, the companies were cited for failing to:
test confined spaces before entry
train workers on confined space entry operations
label chemical containers
exposing employees to asphyxiation, fire, explosion, chemical, trip, and drowning hazards
allowing hot work/welding to be performed without testing for an explosive atmosphere

Without proper training and Confided Space Signs, personnel were placed in an environment that was not only hazardous but one where they shouldn't have been in the first place.
OSHA cited ship repair contractor First Marine L.L.C.; insulation contractor Thermal Control and Fabrication Inc.; temporary staffing companies Hutco Inc. and Day Help L.L.C. doing business as Wise Staffing Group; and blasting and painting contractor Joe Rupcke.
Due to this incident, First Marine L.L.C. was placed in OSHA's Severe Violator Enforcement Program.
In a statement, Atlanta-based OSHA regional administrator Kurt A. Petermeyer said, "This tragedy could have been prevented if the employers had followed proper confined space procedures and implemented appropriate safety measures."
Sources:
https://www.osha.gov/news/newsreleases/region4/07242018