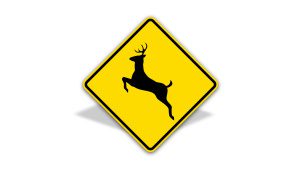 As we approach fall, it's important to remember how costly and dangerous collisions with deer can be. Insurance claims for animal collisions rise dramatically in the fall when it's deer mating season. The Insurance Institute for Highway Safety (IIHS) estimates that more than 1.5 million deer-vehicle collisions occur each year in the United States.
Rochester Hills, a suburb in the northern outskirts of Metropolitan Detroit, created a Deer Management Advisory Committee to launch a public education campaign that raises awareness for driver safety.
In an effort to remind drivers to keep an eye out for deer, temporary electronic signs reading "High deer crash area, use caution" and permanent Deer Crossing Signs will be placed throughout Rochester Hills.
After examining last year's most dangerous sections of roadway, the signs were erected to reduce the odds of driver and wildlife collisions.
While collision claims involving another motor-vehicle averaged payouts of $3,510, the average cost of an animal-strike claim wasn't much less at $2,730. It's a hefty price to pay because extra precautions weren't taken in highly populated wildlife areas.
When you are entering an area where deer are prevalent, it's best to use common sense and slow down. If you see one deer cross the road, it's quite common for others to follow. Keep in mind that deer are most active during dusk or dark. Stay attentive and make sure you use your high beams when it makes sense, so you can see further ahead.
According to Fox News, the following states are the most dangerous for collisions involving deer:
West Virginia
Montana
Iowa
Pennsylvania
South Dakota
Wisconsin
Minnesota
Mississippi
South Carolina
Michigan / Virginia (Tie)
Did your state make the list? If so, what experiences do you have with deer crossings?
Sources:
https://www.iihs.org/iihs/sr/statusreport/article/49/9/3
https://www.theoaklandpress.com/news/local/rochester-hills-to-launch-deer-driver-safety-campaign/article_27cde738-b6b3-11e8-8cf3-8bb458fec609.html
https://www.foxbusiness.com/features/oh-deer-the-10-worst-states-for-deer-crashes