Erin Burns is lucky to be alive after a bundle of wooden poles from a truck came straight through her windshield and out the cars back window.  This incident left her with wood fragments in her skull but apparently with no brain damage.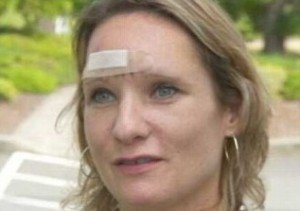 The Washington State woman, Erin Burns, aged 36 is being called a walking, talking, real life miracle.  She was out shopping for a child's birthday present and a truck in front of her suddenly stopped, and she didn't.  A bundle of 27-foot long wooden poles that were being trailer-ed suddenly came crashing through her windshield.
Erin Burns, a resident of Deming Washington, does not remember much of the incident aside from flinching at the moment of the accident, which very well may have saved her life.
The doctors pulled out 200 splinters and sewed stitches along the side of her head.  There is no doubt that Erin Burns has been given another chance at life.
SafetySign.com
SafetySign.com is the flagship online e-commerce site of Brimar Industries, Inc.  Brimar is a manufacturer of a large variety of safety related products including street signs and no soliciting signs. Founded in 1988 as a manufacturer of pipe markers, Brimar has grown into one of the leading sources of safety signs, pipe markers, valve tags, nameplates, traffic signs, parking signs, and mailing tabs.