Between the NYC Boroughs of Brooklyn and Queens is a flowing river of waste and toxins dating back 150 years.  It has received toxins from petrochemical plants, fertilizer factories and other industries that embellish along the NYC banks.
The Environmental Protection Agency designated the creek a Superfund site in 2010 which in turn triggered a lengthy evaluation and clean up.  Some local groups have begun experimenting with some innovative methods to break down the contaminants in the creek.
Some of these techniques include the use of fungus – It is believed that the fungi can clean the waters molecules.  These groups are experimenting by using nature for its own clean-up process.  Some filter feeders can remove contaminants from water and can neutralize harmful molecules.
These type of Superfund clean ups can last for year's so the clean-up and restoration of Newtow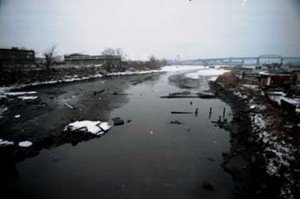 n Creek is just the beginning.
About SafteySign.com
We want to make sure that everyone is doing their part to keep New York and our world clean.  By posting Do Not Litter Signs, Recycling Signs, and Recycle Labels you can help to send a friendly reminder to dispose of waste properly.  Our recycling signs are available in several different materials.  Browse through our collection of recycling signs to find the one that meets your conservation goals.