One of the two biggest holidays of the year that uses fireworks to celebrate is quickly approaching.  The Fourth of July, when everyone paints the town red, white and blue, is observed by all Americans to get out and celebrate. Unfortunately with celebration come some potentially tragic events – Whether it is drinking and driving or fireworks.
While Americans get caught up with excitement they sometimes forget that fireworks are dangerous.  There are about 9,000 firework-related injuries each year and more than half of the victims are young children or teenagers.  Even if you hand your child a sparkler it could cause injury lighting up to 1,200 degrees Fahrenheit and cause 27 percent of all fireworks injuries, including 3rd degree burns.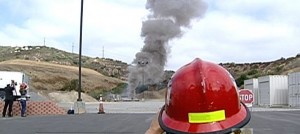 If you do not think this could happen to you, I would think again.  Emergency Rooms are gearing up to brace the influx of patients with firework related injuries.  Of the 9,000 fire work injuries a year, close to 6,000 occur during the 30 days surrounding Fourth of July.
Nearly half the firework injuries are head related and 30% are eye injuries.  This could result in eye injury, permanent vision loss or blindness.  So make sure you are careful this Fourth of July and leave the fireworks to the professionals.
SafetySign.com
SafetySign.com is the flagship online e-commerce site of Brimar Industries, Inc.  Brimar is a manufacturer of a large variety of safety related products including eye protection signs and fire emergency signs. Founded in 1988 as a manufacturer of pipe markers, Brimar has grown into one of the leading sources of safety signs, pipe markers, valve tags, nameplates, traffic signs, parking signs, and mailing tabs.