In San Diego, a public art controversy is blooming after over 100 stop signs were turned into flowers using yarn and wire.  The mysterious man, who identifies himself as "Bryan" began a "yarn bombing" project in the beginning of March 2012.
The "yarn bomber" and his army knotted and crocheted green stems and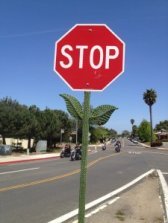 leaves onto 100 stop signs in his own neighborhood.  At night, Bryan, would go to sign posts, wrap per-knitted scarves and stitch them to the stop sign pole.  At first people ignored him but when he began to make progress, people started to take notice.
The community has shown their love for them, but cannot say the same for San Diego City official Bill Harris.  The city has announced that they will be forced to take them down or give Bryan the option to do so within 10 days.  Unfortunately, particularly with traffic control signs and other City assets, there is just no way to retain the works where they now are.
Meanwhile, the artistic community is rallying behind Bryan.  His art is not striving to be cool or edgy but helping to beautify a neighborhood that is in dire need of public art.