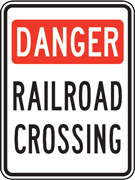 The importance of a Railroad Crossing Sign far outweighs the novelty of the model train showroom. The Crossbuck sign is not only relevant for alerting drivers that a train crosses the area, but is also a reminder that the street raises and they should SLOW DOWN.  Sometimes people overlook the latent dangers associated with railroad crossings.
Recently, there was a tragic accident in Ohio in which four High School students hit a railroad crossing at a considerable speed. The car went airborne, lost control and caused the far too early deaths of four youths. As I drive through small New Jersey towns I see many inactive railroad crossings that still require the railroad crossing signage necessary to maintain safe speeds when we pass.
Crossbuck Signs, Train Crossing Signs, Caution Signs, Slow Down Signs and other signs that warn drivers increase the safety of your community whether the railroad tracks in your town or city are active or not. The danger of a sudden raise in the street or road is ever-present and drivers should be alerted to the road's changing conditions.
To help ensure the safety of your community you can find an assortment of Street and Road Safety Signs at SafetySign.com.