It seems there was a blank canvas left behind after last year's tornado leveled the city of Joplin, Missouri.  Tomorrow marks the one year anniversary when the massive EF5 tornado, with speeds over 200mph, demolished homes & businesses, killing 161 people.  One of the 2,000 buildings destroyed by the catastrophic-vortex tornado was Joplin High School.
President Barack Obama is expected to give his commencement speech to the 2012 graduating class and expected to memorialize the people who lost their lives and celebrate the success of the recovery made thus far in Joplin.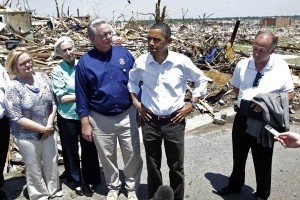 The amount of damage in Joplin, Missouri was expected to reach $3 billion with around 16,656 insurance claims.  More than 500 families were provided temporary housing.
The president said that the destruction that the tornado did was the worst he has ever seen.  The catastrophic tornado was the deadliest seen in the USA in 60 years.
Obama has been in Joplin to talk to the survivors and those who lost loved ones.  He reassured Joplin that this is a national tragedy and long after the cameras leave, they will not stop helping Joplin until they are fully back on their feet.
More on Storm Evacuations
In event of a natural disaster it is important that you are prepared with information as well as supplies.  Make sure you are familiar with the evacuation route by referencing evacuation signs.  In this particular case, tornado shelter signs could have played an instrumental component in saving more lives. During a tsunami, you typically want to get to higher ground that is usually directed with Evacuation route signs.  For more safety signs come visit our online store at SafetySign.com.