Oscar Fuller was sentenced to a year in prison for punching a woman who ended up brain-damaged.  Fuller and the woman, Lana Rosas, were in a confrontation over a New York City parking space.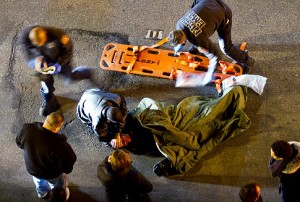 Fuller received a maximum punishment of one year in prison being charged with assault.  The 36 year old electrician apologized and was quoted saying that is was "an altercation that went the wrong way."
He does not deny hitting Rosas in the face during their February 1st clash which left the 25 year old woman in a coma with brain damage.  When Fuller hit the lady in the face she lost her balance and her head hit the concrete close to the Manhattan parking signs.  The blow was a brutal attack but Fuller never intended such serious injuries.