As hunting season opens, it's an important time for landowners to make sure they've properly posted No Trespassing signs, or otherwise identified that people are not welcome on their property. Some of the laws can be confusing and they can differ significantly based on location.
In Minnesota, signs must be placed at 1000-foot intervals, or 500-foot intervals in wooded areas, or at the corners and access points of the property. They must say "No Trespassing" or something very similar in 2-inch letters, and they must have contact information for the land owner or manager. Missouri, on the other hand, has a "Purple Paint Law" which allows property owners to identify no trespassing areas with marks of purple paint in specific sizes and locations. Michigan is considering a similar law.
The best advice we can give is to check with your local Division of Gaming and Wildlife, Department of Natural Resources, or similar departments to get more information about your local laws and requirements then come back for stock or custom No Trespassing signs, Posted signs, No Hunting signs, or other signs that fit your needs.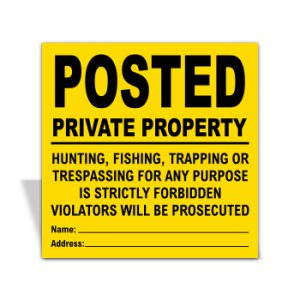 Sources:
http://www.echopress.com/outdoors/4326836-posted-done-properly-rules-prosecuting-case-can-be-complicated
http://www.news-leader.com/story/sports/outdoors/2017/09/14/purple-paint-law-full-effect-fall-hunting-seasons-get-underway/653497001/
http://www.wzzm13.com/news/politics/michigan-politics/michigan-could-become-fourth-state-to-legalize-online-gambling-under-bill/476714449