A New York school bus monitor was verbally assaulted by four middle schoolers, an attack that generated international outrage and an outpouring of support f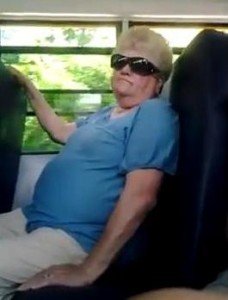 or the woman in this viral video.  Karen Klein, 68, was impressed with the swift and strong communal response against the verbal attack.  There have been numerous incidents with students bullying each other and little focus on students taunting facility.
The ten minute video of the verbal assault was taken aboard a Greece Central School District bus.  The bullied Grandmother, Karen Klein, did not want to charge the boys for their actions but simply wanted an apology.
The video of the middle schoolers taunting, swearing and physically threatening Klein has become a rallying point behind bullying.  It has also stimulated an overpowering out-pour of support for the 68 year old grandmother.
An online campaign supporting Klein raised nearly $500,000 crushing the initial goal of $5000 to send Karen Klein on a vacation.  A Toronto man, Max Sidorov started the fund a few days ago and he did because he was also a victim of bullying.
The kind gestures did not stop there.  The Anderson Cooper show surprised her with an all-expense paid trip for nine people to Disneyland.  She will have the opportunity to bring 8 of her grandchildren on a vacation they will never forget.
SafetySign.com
SafetySign.com is very supportive of anti-bullying laws and any safeguards to prevent bullying.  We carry a number of Safety Signs,  No Bullying Signs and Anti Bullying signs to help reinforce school policy.  Come visit us a SafetySign.com and see how we can help you to stop bullying in your school.