It's about time somebody takes a stand and tries to clean up the city.  This one man band has started the "Metropolitan Etiquette Authority" which takes on rude, crude and obnoxious people scattered throughout the city.  You will currently walk down the blocks and see signs for no parking or signs for no trespassing but you may begin to see some "Etiquette Signs".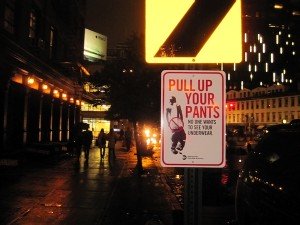 The MEA has placed about 80 signs throughout the Metropolitan area and they plan on expanding.  So what kind of signs are they posting?
"Pay attention while walking.  Your Facebook status update can wait"
"Pull up your pants.  No one wants to see your underwear."
"Clean Up After Your Horse"
"Don't Flick Your Butts On the Ground, Put them Out and throw them in the trash"
To mount signs on posts across the city is illegal but it seems that city officials don't mind, especially since it's not coming out of their pocket.  The man behind the plan is Jason Shelowitz.
This isn't Jason's first attempt, back in April of 2010, he was fed up with the obnoxious subway behavior and believed that New Yorkers needed to start taking matters into their own hands.  The 30 year old artist asked about 100 people of their subway gripes, and filtered them down to the most common.  Next he made over 360 silkscreened signs and posted them throughout subway stations.  One of the signs read:
"If you see something, don't just say something – do something.  And make it snarky."
Shelowitz is making small steps and has already placed around 80 signs for $2000.  Although illegal, he is not defacing public property and he is sending a positive message.  Keep your eyes peeled because he plans on expanding and hitting the outer boroughs within the next few days.