Summer comes to a close and School comes to open.  On the first of September, NJ's strict anti-bullying law went in full effect.  The anti-bullying law is billed as the nation's toughest, with co-sponsor Barabara Buono backing it 100%.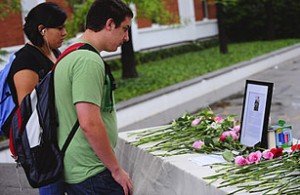 The law was set to set a deterrent against the bullying of young people.  As it is meant to be a powerful message for the children of the Garden State, there was resistance against the approval of this law.  Critics believe that this is the beginning of the storm for sew-happy parents.  New Jersey could care less what the critics think and are moving full steam ahead.  Below are some reasons why…
The Anti-Bullying Bill of Rights stems from the suicide of Tyler Clementi, an 18 year old who was allegedly caught on a live video stream, being intimate with another male.
The State did not take this incident lightly.  Clementi's roommates were said to be at fault and were charged with a hate crime.  Although they are being reactive, they are striving to be proactive for any future incidents by drafting a law enforcing anti-bullying policies for public schools.
As of now, around 47 states have anti-bullying laws, but the new anti-bullying law NJ set in place is a bit more extensive.  This includes the training of the staff and students to adopt these new practices, appointing safeguards, and how to conduct an investigation in a short time period.
New Jersey is taking an aggressive role on bullying and other states are starting to be pressured to follow suit.  Other states anti-bullying laws aren't as deterrent as NJ.  The new law will notify the state school officials, law enforcement and put the bully on notice.  Does this seem a bit too much… not when you dealing with the molding of a young person's future?
Hopefully NJ Anti-Bullying Law will help prevent future suicides, school shootings, and the destruction of a young person's self-esteem that can later result in isolation and violence.
Popular Resources: