Jack Jablonski Hit Video
Our Hearts and Prayers go out to Jack Jablonski, the high school hockey player that was paralyzed after being hit from behind by two opponents.  With less than a period after scoring his teams first goal, Jack Jablonski, a Minnesota High School Hockey Player was tragically paralyzed in a holiday hockey tournament.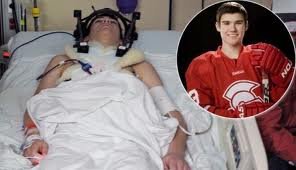 The Benilde St Margaret Junior Varsity Star collapsed motionless during the Holiday Hockey Classic Tournament game against Wayzata High on Friday night.  The 16 year old sophomore, Jack Jablonski was then carted immediately off the ice and sent to Hennepin County Center where he is slowly recovering.
He has suffered two broken bones in his lower neck and has a bruised spinal cord.  The Doctors are unsure of his recovery time or outcome until the swelling of his injuries subsides.
His mother, a PR Executive is thinking of leaving her position to spread the awareness of dangerous hits, such as this in hockey.  This is a touching issue for all hockey fans, in hopes that he has a fast and full recovery.
Sign Categories