Matthew Falkner was craving and thinking "Yo quiero Taco Bell" after a long night of drinking on October 1rst.  Matt placed his orders for tacos before continuing through the directional road signs in the drive through.  It seems that the driver, Matthew Falkner, didn't quite make it to the window for pick up.
A manager of the Taco Bell was forced to call the police after Matt Falkner was found past out in his Chevrolet pick-up.  Aside from that, Matt's foot was slammed on the accelerator and the engine was revving with smoke coming from the engine.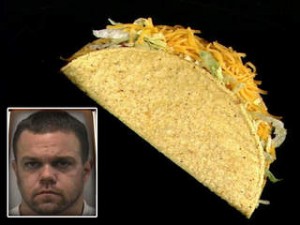 When the Palm City deputies arrived at the scene they find the thirty year old passed out with his foot on the gas pedal.  The deputy opened the door to remove the taco eating drunk man's foot, not an idle spot for parking signs.  When the deputy asked the man for his ID and he refused to hand it over.   Mr. Falkner was asked again for his driver's license and this time decided to laugh in the officer's face and hand them a taco.  Let's put it this way, things didn't go so well from there.
The details don't reveal whether it was a Crunchy Taco, Volcano Taco, or Soft Taco but was asked to step out of the car when police noticed a fire coming from the engine.  Falkner in his drunken state would have needed fire exit signs in his car if it weren't for the officers.
The deputies squelched the small blazed and charged Falkner with a DUI after blowing a .227 which is over triple the legal limit.