A State Trooper in Maine is credited for saving the lives of many when an elderly man drove the wrong way up a busy interstate.  Trooper Douglas Cropper had stopped a truck at the end of June in Portland Maine, when he saw a Toyota Corolla hurtling the wrong way on the freeway.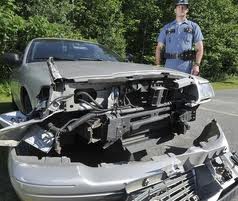 The daring Trooper acted Cropper got off the freeway to get ahead of the car – and was immediately blocked by construction on the on-ramp, forcing him to weave through traffic on side-streets to get back on the freeway.
The State Trooper speeds ahead of the vehicle and quickly turns into the emergency turn around lane to clip the Corolla, bringing it to a hault.  Thankfully no one was hurt in this incident, even though the Corolla was traveling about 45mph when it hit the Crown Victoria.
A couple driving near the scene claims that Trooper Douglas Cropper saved their lives because they most likely would have hit the Toyota Corolla.
Cropper also chose not to ticket the 88-year-old driver, who wasn't sure how he had mistakenly driven on the wrong side of the freeway. You can see the trooper's skillful maneuvers below.
SafetySign.com
SafetySign.com is the flagship online e-commerce site of Brimar Industries, Inc.  Brimar is a manufacturer of a large variety of safety related products including stop signs and parking signs. Founded in 1988 as a manufacturer of pipe markers, Brimar has grown into one of the leading sources of safety signs, pipe markers, valve tags, nameplates, traffic signs, parking signs, and mailing tabs.