Machine Guarding Safety Tips
Provided below are some Machine Guarding Safety tips to help prevent injury in the workplace.  Every year, machines account for hundreds of injuries in the workplace and employees must begin to secure these safety procedures to prevent cause of injury or fatality.
The Occupational Safety and Health Administration have cited a number of companies for failing to train staff properly, missing Machine Safety Signs, or inadequate use of machine guards.
Machine Guards are tangible materials that are used to help keep people from having direct contact with a machine's moving parts.  Many of times there are Machine Guarding Signs to help inform the dangers associated with the use of particular machinery.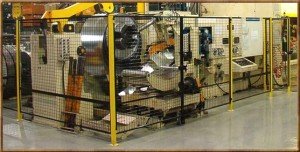 Many of the machine guards and warnings seen are to protect the employee from kickbacks, flying scraps, or even dripping liquids.  Machine guards come in a number of different materials depending on the exterior and interior supplies the machine is created from.  This ranges from mesh steel, woven steel, or even wood depending on the type of manufacturer.
There are two types of fixed guards:  Fixed Guards and Interlocking Guards
Fixed Guards help to protect people from hazardous parts of the machine at all times.  The Interlocking machine guards are used only if a fixed guard is not practical.
We hope that you found these Machine Guard Safety Tips helpful and if you are looking for Machine Guard Safety Signs please visit us.