Police in Ramapo, NY issued 19 summonses to pedestrians in a single day last week. It was part of a larger pedestrian safety effort focused on awareness and education. Most of the violations were for failures to obey lights and crosswalks.
In Ann Arbor, MI police took a different tact last month, issuing more than 1,400 warnings over a 10 day period to drivers who failed to yield to pedestrians. That was phase 1 of a multi-part test. Phase 2, beginning in the coming days, will involve ticketing those motorists who could be subject to fines of up to $140. Pedestrians could also be subject to tickets of up to $130 if they carelessly step into the path of oncoming vehicles.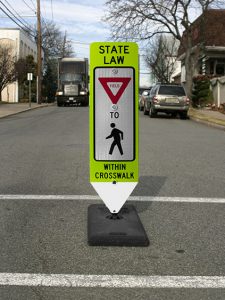 These are just two examples of the types of education and enforcement efforts currently being applied towards pedestrian safety. Drivers and pedestrians need to share responsibility, and these types of actions will continue to get that word out. Pedestrians should stick to implied crosswalks or crosswalks properly marked with crossing signs, and drivers need to yield to pedestrians with the right of way. Keep each other safe out there!
Sources:
http://ramapo.dailyvoice.com/police-fire/20-summonses-issued-during-pedestrian-safety-detail-in-ramapo/716641/
http://www.mlive.com/news/ann-arbor/index.ssf/2017/07/ann_arbor_police_to_begin_phas.html