Isabelle Tezla Dies In School Bus Accident
This is a heart wrenching story that started with a bus ride and ended in tragedy.  A dump truck collided with a school bus carrying elementary children on Thursday, 2/16, killing an 11 year old.  The young girl, Isabelle Tezla, was killed in the incident and many of her classmates were injured.  Isabelle Tezla's dad is Sgt. Anthony Tezla, a NJ State Trooper.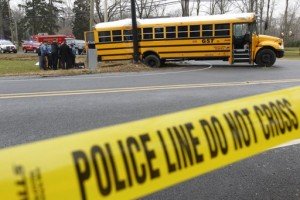 The accident occurred in the morning around 8am at a four way intersection in Chesterfield, NJ.  The school bus was carrying 25 children, including Sgt Anthony Tezla's triplets.  The dump truck that crashed into the school bus sent the school vehicle flying sideways into a traffic signal pole, crumpling the whole side of the school bus.
Anthony Tezla daughter, Isabelle Tezla, was killed and her sisters, Sophie Tezla and Natalie Tezla were listed in critical condition.  The Tezla sisters were sent to Camden Cooper University hospital along with 11 years old, Jonathan Zdybel.
The school bus had a stop sign while the dump truck had a yellow flashing light and it was unclear whether the bus followed the traffic sign or was attempting to cross the intersection.  After the collision the dump truck that hit the school bus in Chesterfield ran off the road into a grassy area close to a road safety sign.
No charges have been filed but the police investigation is still incomplete.
Chesterfield, NJ is a tight knit group with around 8000 residents is extremely devastated.  Our thoughts and prayers go out to the Tezla family as well as the community.