Virginia has had a longtime tradition of using dogs while hunting for deer. However, House Bill 1900 proposed a law where a dog owner would be fined if their pet trespassed on private property. This created pushback from the hunting community. They claimed this bill was unfair towards them and saw it as a threat to a longtime Virginian hunting tradition. Landowners and farmers who supported the bill, said it would help protect them from hunters who do not respect property rights.
In order to have a case, the landowner was to indicate that dogs were not allowed on the property either by posting a sign or tagging their trees with blue markings. The landowner was then to prove that they were harmed by the dog, which would subsequently result in a civil penalty where the dog owner would be fined $100.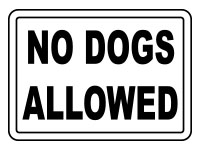 Click here to learn more.
The bill was voted on in February and lost the votes it needed to pass. As suburbanization of rural parts of Virginia continue, debates over changing hunting laws and traditions are subjects that will undoubtedly turn up again in the near future.
SafetySign.com offers a variety of outdoor durable No Trespassing Property signs. Visit our website to view our products.