The Zombies are now "Rawr"ing or mocking the Metro Public Works and Assets today.  The electronic traffic sign on Brownsville Road in Kentucky has been hacked for three days in a row now.  City officials are concerned for public safety and have decided to move it.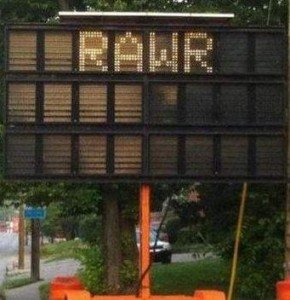 Yesterday the hackers made the electronic road sign read "Beware of Zombies" and this morning it simply read "Rawr".  Lindsay English, the spokesperson for Metro Public Works and Assets said that "This is getting beyond a prank – It is becoming a public safety concern because the message is there to direct traffic and alert motorists to traffic pattern changes."
The electronic traffic sign is being removed today and replaced with permanent street signs.  The downfall is that that the permanent street signs do not give the town too much flexibility when posting immediate messages to motorists.
The electronic signs are programmed through a box on the machines or through a laptop connected to them – The signs are password protected but can easily be reset.