While safety measures have improved for construction work, there are still a great many hazards especially when hiring inexperienced workers. The Associated General Contractors of America (AGC) reported that many construction firms that will be planning on hiring in 2017.
However, fulfilling this demand with experienced workers is proving difficult. This has led to construction firms taking on people who are new to the industry. As such, training and educating new hires without experience becomes crucial to enhancing the safety of the entire workforce. To read more, click here.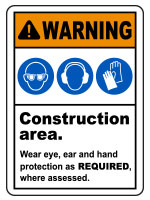 Tab Evans, one of the safety managers at Hall Contracting, said, "You're getting real estate agents that are applying for construction jobs these days. I want the guy that's going to ask questions."
OSHA's Construction Focus Four hazards is a short list that includes the most common accidents on a construction site. They are:
Caught-in or caught-between
Electrocution
Falls
Struck-by
For more information this OSHA resource click here.
We offer Construction Safety Signs to meet your worksite needs. Choose from our wide variety of signs to help remind your workers of safety precautions.