Mindfulness is the practice of being fully present in and aware of your current surroundings. In other words, to be mindful is to be focused on what you are doing. While this age-old concept seems straightforward, it is not always easy to implement or practice and can significantly affect workplace safety.
It's easy to allow our brains and bodies to run on autopilot during the workday. This is especially true in industries where the daily tasks are frequently the same- such as running machinery, fulfilling warehouse orders, or any number of jobs involving manual labor. These industries have many associated hazards, and the risk of injury can be high, making mindfulness a beneficial practice to avoid and reduce accidents.
In this article, we will break down why practicing mindfulness is so important, some techniques to integrate mindfulness into the workplace, and some tactics to turn your employees into mindfulness pros.
Why mindfulness is important in the workplace
Reduction of accidents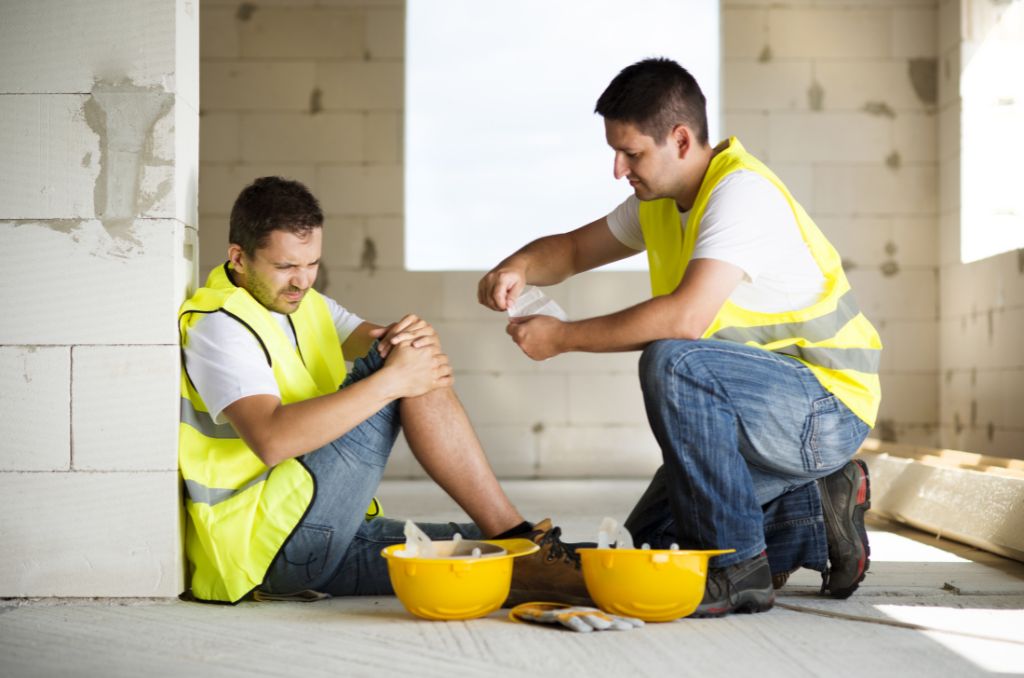 By increasing employees' awareness of their surroundings, practicing mindfulness can help minimize the number of injuries or accidents, specifically those related to falls, trips, and slips. According to the National Safety Council (NSC), there were 6.8 million people treated for fall-related work injuries in 2019 alone.
In the same article, the NSC states that "falls are 100% preventable" by following proper safety procedures. Workers running on autopilot are less likely to follow these procedures than workers who are mindful of the task at hand and therefore are more likely to experience an accident than those practicing mindfulness.
This makes practicing mindfulness especially critical in industries where falls, trips, and slips are typical, such as construction, education, healthcare, agriculture, transportation, and warehouse professions.
Improvement of mental health
Practicing mindfulness not only helps reduce physical injuries, but it can also create a less stressful or mentally-taxing workday . According to the National Center For Complementary and Alternative Medicine (NCCIH), studies have shown that practicing mindfulness can help with stress, anxiety, depression, and several other mental and physical health conditions.
Feeling overwhelmed or confused can create stress in the workplace, especially when workloads are high and responsibilities are piling up. Taking a step back to refocus before moving forward with their tasks can significantly reduce how stressed and anxious workers feel each day.
Reducing the feelings of stress and anxiety employees feel not only improves their mental health but can also lead to greater productivity.
A 2021 study found an inverse relationship between employees' stress levels and their productivity. In other words, the more stressed employees feel, the less productive they will likely be.
Techniques to practice mindfulness in the workplace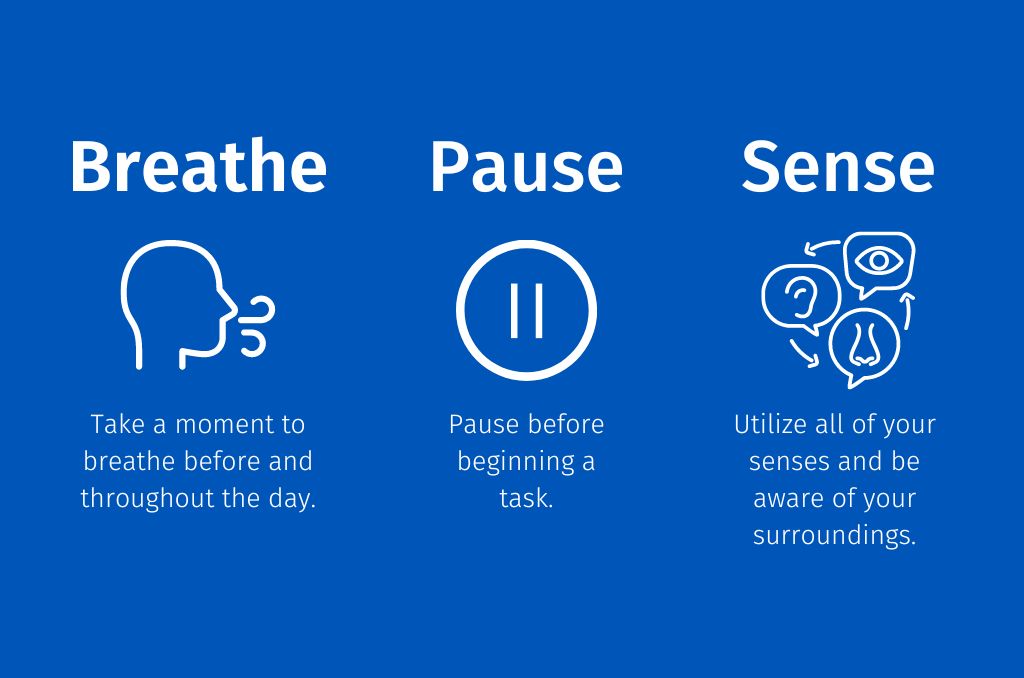 Breathing exercises – This isn't a task that needs to take a long time. Taking a few minutes at the beginning of the workday to focus on breathing can help get employees in the "work zone." This exercise could occur at morning safety meetings when all staff members are together before beginning work. Experts also recommend taking small 30-second breaks throughout the day for deep breathing exercises to refocus and regroup.
Encourage employees to pause before beginning a task – When running in autopilot mode, employees may begin tasks without following proper safety protocol and may overlook potential hazards. Remind employees to take a moment before starting a job to pay attention to the following:
• The environment – are there any potential hazards nearby that should be mitigated or accounted for?
• The personnel – are all required personnel present and ready to begin the task safely?
• The equipment – has the equipment been inspected and set up to ensure that it's in proper working order?

Of course, this is not an exhaustive list, and there are other things to consider depending on the specific job, facility, or industry. Always follow the guidelines of applicable regulatory agencies and organizations such as OSHA and ANSI.
Remind employees to utilize all their senses – We are all equipped with different senses to help us understand our surroundings. These senses are powerful tools that can be easily overlooked when busy or not paying attention. Tuning into these senses can help us be more aware of what is happening around us and contribute to a safer workplace.

According to an article by Occupational Safety and Health (OSH) online, "this type of exercise also allows for practice of switching from mindlessness to mindfulness. With further practice, the skill is then applied in other areas of an individual's life that will directly impact the ability to be safe and work injury free ."
How to implement mindfulness practices in your workplace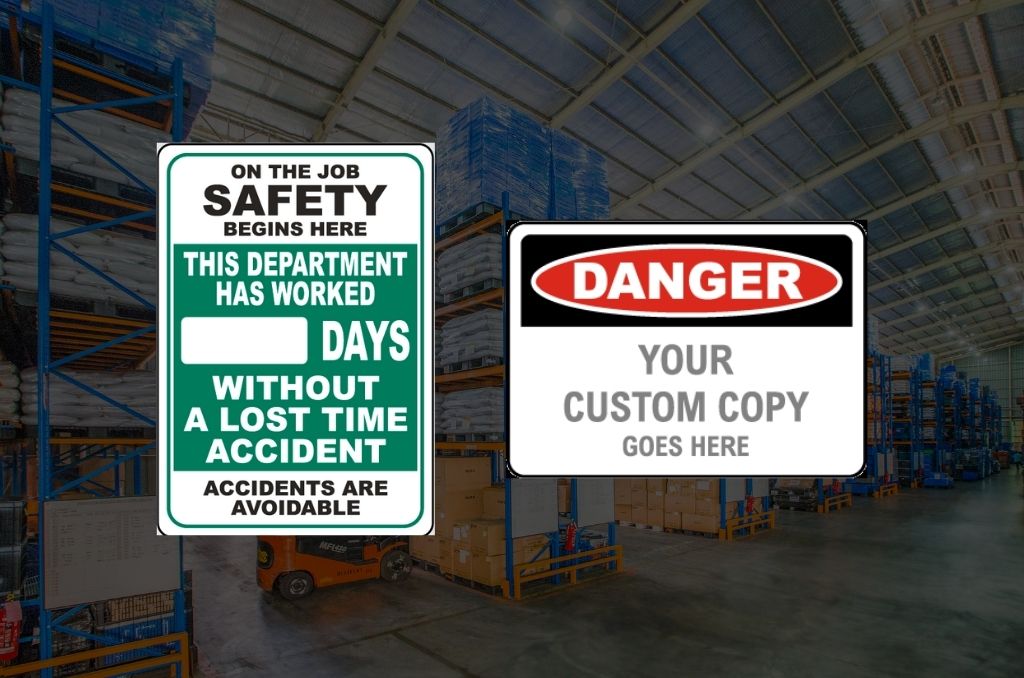 Here are a few ways you can help your staff become mindfulness pros:
Have a weekly meeting- you can review mindfulness refreshers or activities to help start the week. This can also be integrated with daily safety meetings, but try to carve out time each week dedicated to mindfulness discussions.
Post custom safety signs with mindfulness reminders- displaying signs that remind employees to regroup, refocus, and tune in to their surroundings is a great way to help keep these practices in use daily. Consider posting these signs in common areas such as the breakroom.
Use a Safety Scoreboard- A safety scoreboard is a great visual reminder of why understanding and practicing mindfulness is crucial in the workplace.
Conclusion
By understanding the safety concerns that exist in our work environments and addressing them with the proper mindfulness training, employers and managers can create safer environments for employees. Coupled with the appropriate safety signage and protocols, practicing mindfulness can help businesses mitigate the risk of injury and improve productivity.
Mindfulness is a powerful tool for cultivating a safer workplace, and safety signs serve as a visual reminder for the staff to always be aware of their surroundings, work areas, and equipment. At SafetySign.com, we have your safety sign needs covered.
No matter your industry, SafetySign.com has the products you need and the customer service you want. Check out all of our inventory, including in-stock and custom signs, at SafetySign.com.