Forklifts, sometimes referred to as lift trucks, jitneys, hi-los, or fork trucks, are one of the most commonly used pieces of machinery in the warehousing and industrial industries. They are usually smaller powered trucks designed to lift and move materials, inventory, or products short distances.
According to the Industrial Truck Association, about 4,500,000 estimated industrial truck operators are employed in over 300 industries. More than 200,000 forklifts are sold each year in the United States alone.
While this shows us that forklifts are an integral part of many industries, it also serves as a reminder that with any powerful piece of equipment comes the risk of injury or accidents on the worksite.
OSHA annually estimates about 85 fatal, 34,900 serious injuries, and 61,800 non-serious forklift-related accidents. With these statistics in mind, knowing forklift safety and implementing precautions to keep your employees safe is crucial.
Tips to Safely Operate a Forklift
Have your employees obtain their forklift certification

Many forklift-related injuries are caused by improper training or lack of safety protocols. Ensuring those operating forklifts are trained and certified can help reduce accidents and create a safer workplace for all employees.Additionally, federal and state laws require that all personnel who operate lift trucks or warehouse products be adequately trained and certified. OSHA also requires this in their Powered Industrial Trucks standard (OSHA 1910.178 (i)(6)). To ensure greater levels of safety, employers should also conduct regular performance reviews and offer additional training, safety videos, webinars, demonstrations, etc.
Always check forklift stability
Forklifts tipping over are responsible for many injuries each year, so employees must inspect forklifts before operating them to ensure they are stable and balanced. Every forklift has a center of gravity, and they are built with a three-point suspension system, also known as a "stability triangle," that should be maintained to prevent tipping over.Another aspect of maintaining stability is ensuring operators do not exceed the recommended load size. The proper load size depends on the type of forklift (the capacity can be found on the forklift's data plate) and load distribution. Knowing how to load a forklift safely is a crucial component of the training and certification process, which is another reason why ensuring all forklift operators are certified is so important.
Inspect forklift equipment daily
It may seem simple, but conducting daily checks of your forklift truck can help catch any issues before they cause an accident. Ensuring things like your brakes, steering wheel, lights, and horn work can help reduce accidents. Additionally, ensuring the tires are filled to the correct PSI, the fluid levels are normal, and the forks are in proper working condition can also help prevent accidents and injuries.
Use a floor marking system
Properly marking your floors can go a long way in preventing employee injuries. Always mark high traffic or hazardous areas with bright colors for maximum visibility and warning. Having a designated path for your forklift drivers is also a great way to help avoid confusion and potential accidents when multiple forklifts operate simultaneously.At SafetySign.com, we offer a variety of floor safety signs and floor marking tape ideal for warehouse use. We even have the option to make your own custom floor sign with custom text, colors, graphics, and background.
Always have properly placed forklift safety signs
Safety signs are a great way to remind employees of basic safety rules. It's easy to get distracted or run on autopilot during the day, so placing highly-visible signs in your facility as a visual reminder can help keep operator safety in mind. SafetySign.com is your one-stop shop for safety solutions, and we offer a wide range of forklift safety signs.Our most popular forklift safety signs include: watch for forklift sign, caution sound horn proceed slowly sign, and danger forklift traffic be alert sign.
Have clear visibility of your surroundings
Two of the leading causes of forklift-related accidents are getting stuck between the forklift and an object or being hit or run over by a forklift. One way for your forklift operators to avoid these kinds of preventable accidents is by having a clear 360-degree view of all their surroundings. Ensure forklift operators are taking the time to properly assess their surroundings before and during the use of forklifts.
Always wear your seatbelt and proper safety clothing
Just like when operating a motor vehicle, a seatbelt should always be worn when driving a forklift. Seat belts help prevent severe or fatal injuries during a tip-over and other accidents. It is also highly recommended that anyone operating a forklift be outfitted in safety attire- such as a hard hat, safety shoes, and a bright-colored jacket.
Forklifts are a very helpful, necessary piece of equipment across the board in many industries. They are great tools for helping to move loads of products, materials, orders, etc., with precision and ease. With any industry, forklifts come with operating risks, and being mindful of safety protocols and procedures is the best way to help prevent accidents and injuries in the workplace.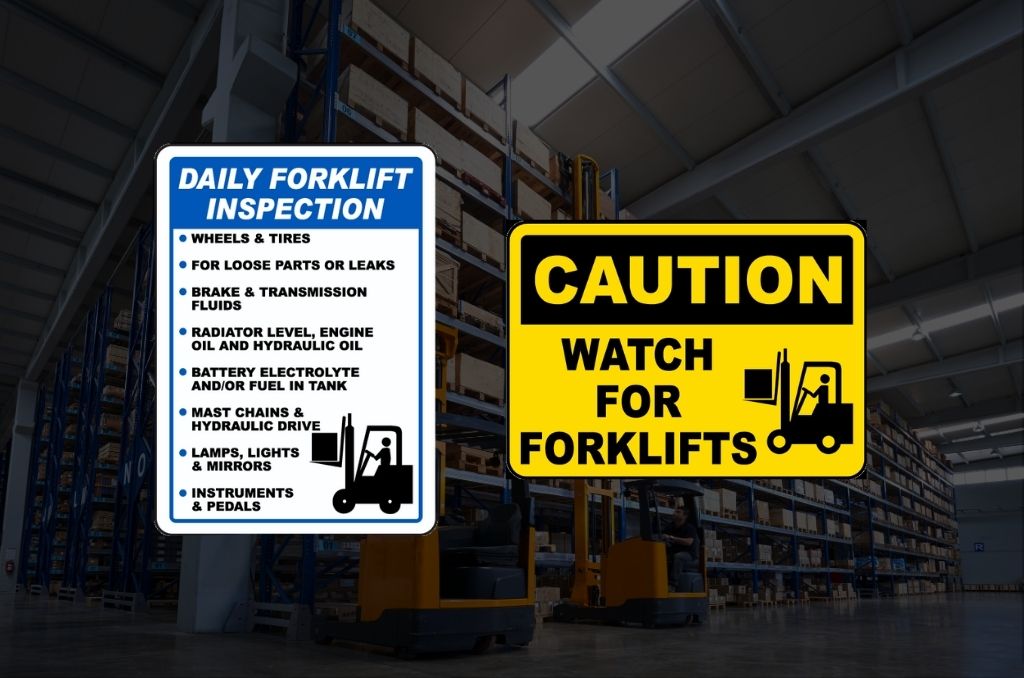 SafetySign.com is your leading provider of safety solutions. We have everything you need to help keep safety a top priority at your facility. From forklift safety signs and labels to floor safety signs and floor marking tape, we have your needs covered! To check out all of our products, in stock and customizable, please visit our website.