"I've got the sign that I need but I'm not sure what hardware I should get to mount my sign."  That's a familiar concern we hear a lot from our customers and we understand it. There are a lot of options for hardware and it can get confusing as to which one to choose, but that's why we're here.
The mounting hardware, sign stands, and posts that we offer can be put into three categories; hardware for signs with .218" or 1/4″ mounting holes, hardware for signs with 3/8" mounting holes, or street name sign mounting hardware.
Hardware for Signs with .218" or 1/4″ Mounting Holes
The hardware for signs with .218" or 1/4″ mounting holes is easy enough to go through. For fence mounting needs, we offer a tamper resistant chain link fence bracket that does an incredible job securing your sign, and two types of nylon ties for quick sign mounting where theft isn't a concern. We also offer wood screws, a 3/16" bolt set, and a nifty solar light that clips onto the top of the sign should you want to ensure its visibility throughout the night.
Hardware for Signs with 3/8″ Mounting Holes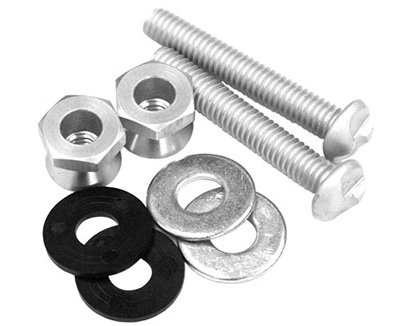 The hardware options for signs with 3/8" mounting holes can be a little overwhelming if this is your first rodeo with installing a sign. The first thing you need to decide is whether your sign needs a permanent location or if it needs to be portable. Our post options for giving your sign a permanent location include U-channel posts, galvanized round posts, composite/fiberglass posts, and a unique impact recovery post. If your sign needs to be portable we offer a range of different sign stand options to accommodate a wide assortment of sign sizes, and we also have two options for fence mounting.
U-channel posts are by far the most popular because of their affordability and versatility. They are available in either a green enamel finish for those who like their post to "blend in" with the surrounding greenery, or a galvanized finish which is the optimal choice because it prevents the post from rusting. These posts are most commonly used for installing traffic signs, parking signs, no trespassing signs, and facility signs such as shipping and receiving signs. For mounting your sign to this type of post, customers can choose a standard bolt set, which we also bundle with our 6' and 8' U-channel post kits, or you can order a tamperproof bolt set to help prevent sign theft. We also carry a special bracket that works in a similar fashion to the tamperproof bolt set for those concerned with sign theft. Ribbed sign saver plates are a great add-on to help prevent any bending of your sign during installation due to over-tightening and we offer one way bolts, break-away nuts, and both nylon and zinc washers.
2-3/8" galvanized round posts are the most popular choice for posting street name signs, likely because of their more attractive appearance, but customers also turn to them for other types of signage for the same reason. We offer three different brackets to mount signs to this type of post. Customers looking to mount one sign can choose either tamperproof or standard mounting brackets. We also offer a double-sided bracket option for customers who need to mount signs back-to-back on the same post.
Additionally, we carry a round post bracket that is designed to work with large round posts from 4" to 12" in diameter such as those for street lights. This bracket set comes with everything needed to mount one sign.
Our composite/fiberglass post is our "green" option for customers. The green coloring of the post helps it blend in with plant life and unlike green enamel U-channel posts, this will never rust. This post is best suited for posting parking lot signs or property signs with sizes ranging from 18" tall to 30" tall. Bolt sets will need to be ordered separately to mount your sign.
The impact recovery post has a very specific purpose that makes it very desirable for certain customers. It is designed for installation on asphalt or concrete surfaces where other types of posts would be too costly to install, and where post damage is likely to be an issue because of careless drivers. So when a driver bumps into the post with their car, the post will bend in the direction of the contact and retract back into its original position once the vehicle is no longer in contact with the post. This ingenious design saves our customers money by dramatically decreasing replacement costs associated with damaged posts. It can accommodate square and rectangle signs up to 30" tall.
Sign stands are a great option for those who need to move their sign around a facility or only want the sign to be displayed during certain hours of the day. We offer five different stands to meet those needs.  Our 60 lb. rubber base stands can mount any of our signs up to a 48" diamond and is best suited for large signs and windy environments. The 30 lb. rubber base stands can also mount any of our signs up to a 48" diamond but are best suited for 30" tall signs or less due to the weight of the stand.  The Phoenix stand has a unique vertical post with mounting holes placed every so many inches but will hold a 48" diamond and multiple signs like the 60 lb. and 30 lb. base stands. Our 48" cast iron stand is a great choice for those looking for a more attractive stand that can hold 12 x 18" and 18 x 24"signs. The last option is our 15" base stand that can hold signs up to 36" tall. It's best suited for 12 x 18" signs because the stand only weighs 10 lb., but it can be secured to the ground if desired.
For customers that need to mount signs to chain link fences, we have two tamper resistant brackets to choose from. Both brackets will help protect your sign but the differences between the two lie in the design and installation. Our Sign Guardian bracket is made from a strong nylon-type material that will never rust and allows the sign to be installed from one side of the fence. Our other bracket is made from galvanized steel and fits into the diamond shape of the chain link fence but installation is slightly more challenging because you will need someone on each side of the fence to mount your signs.
Street Name Sign Hardware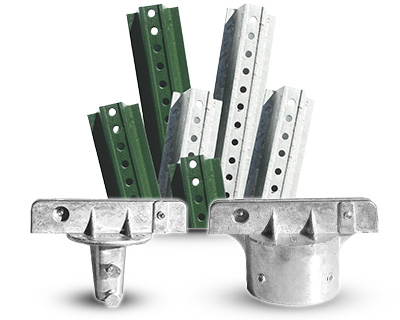 The hardware options for street name signs are vast but it's easy to figure out what you need. There are two pieces of information you need to know before you can choose the right piece of hardware; the type of post you will be using, and whether your street name sign is flat or extruded.
For U-channel posts we offer a 90 degree and 180 degree bracket for mounting your first sign to the post. The 90 degree bracket will mount your sign so that it is perpendicular to the flange of the U-channel post, creating a 90 degree angle with the flange. The 180 degree bracket will mount your sign so that it is parallel with the flange of the U-channel post, creating a 180 degree angle with the flange. The one you choose will depend entirely on how your post is installed and the angle you want your street sign. Both the 90 and 180 degree brackets are available for flat blade and extruded blade street signs.
The hardware for 2-3/8" round posts only includes one bracket because the round design of the post allows you to position the bracket to any angle desired. This bracket is also available for flat blade and extruded blade street signs.
We've talked about mounting the bottom street name sign, but what about the second sign or third sign or even more signs? We offer two types of crosspiece brackets to accommodate additional signs. Our standard crosspiece bracket will mount the second sign at a 90 degree angle in relation to the first sign. We also carry an adjustable crosspiece bracket that allows you to mount the second sign so that it's facing the same direction as the bottom sign, as well as giving you the ability to mount the sign at a 45 degree angle for non-perpendicular intersections.
We hope this helps you understand all of your sign post and mounting hardware options. If you're still unsure what you need, or have additional questions, our award-winning customer service staff is ready to help you find the right solution.