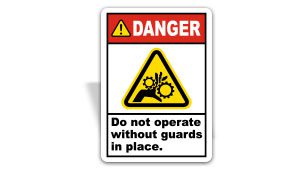 U.S. workplace safety regulators recently cited an Idaho lumber company nearly $200,000 in penalties for exposing employees to multiple workplace safety hazards. Amongst other reasons, the U.S. Occupational Safety and Health Administration (OSHA) cited the lumber mill for failing to use machine guards on trim saws and conveyors.
Due to the serious and potentially fatal injuries that may result from a lack of machine guarding, it's worth re-familiarizing personnel with machine safety best practices.
Machine guarding protects a user and enhances the safety of any number of machines, such as conveyors, industrial printers, and table saws. The machine guard specifically covers the moving parts of machinery that are inherently dangerous to users.
Not only does machine guarding protect the worker at the point of operation, such as where materials are sheared or bent. It's also necessary where components transmit energy to the specific part of machinery that performs the work. Lastly, machine guarding should be present wherever parts are in constant movement when the machine is in operation.
Although having the machine guard in place is a good start, there are other measures for which to abide by to further utilize the effectiveness of the guard.
Personnel Training
Operating heavy and powerful machinery safely requires sufficient education and safety training. Not only does an uninformed employee put themselves at risk, they also subject others to serious risk of injury or fatality. More than any other safety measure, education should be at the forefront of every workplace.
Knowing how to operate machinery with the use of guards helps protect workers from preventable injuries and ensures compliance with various laws and regulations.
Using Safety Labels
Outside of proper education and safety training, Machine Guarding Labels are the first line of defense when it comes to protecting workers from dangerous rotating parts, pinch points, hot surfaces, and more. Safety Labels should be used in locations where personnel are in the direct presence of hazards and need to be alerted.
Wearing Personal Protective Equipment (PPE)
If proper training is the structure that protecting employees is built upon and safety labels are your best option for alerting them of hazards, then PPE is the last line of defense. In order to prevent workplace injuries, workers should always wear their required safety gear. Depending on the needs of the employee and the type of work being done, PPE mitigates risks by protecting their hearing, eyes, skin, lungs, and head from danger.
For management and operators, the importance of utilizing machine guards cannot be stressed enough.
Sources:
https://www.osha.gov/SLTC/machineguarding/standards.html
https://www.osha.gov/news/newsreleases/region5/01242018