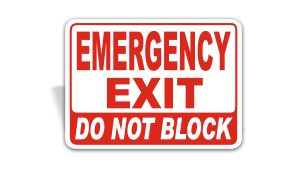 Every year, the National Fire Protection Association (NFPA) hosts a fire prevention week that targets specific aspects of fire safety. 2018's theme is "Look. Listen. Learn. Be aware – fire can happen anywhere."
From October 7th through the 13th, the NFPA is looking to raise awareness of "three basic but essential steps to take to reduce the likelihood of having a fire." Those steps are:
Look for places fire can start
Listen for the sound of the smoke alarm
Learn two ways out of each room

While the NFPA's central focus this year is on home fire safety, the messages apply to businesses as well.
When looking for possible fire hazards in your home and workplace, you're also looking to eliminate them. Identifying a problem is the first step in a two step process.
When you're listening for the sound of smoke alarms, keep in mind that you may only have minutes to quickly exit the home or building if an actual fire breaks out. That's why having an escape route and plan is important. Being prepared for a fire is always better than letting it catch you by surprise.
For both your home and the office, you should learn two ways out of each room. Each exit should be accessible and free of clutter. For businesses, using an Emergency Exit Sign like the one shown above reminds personnel that fire exits need to remain clear at all times.
Fire prevention week isn't just for the adults though. The NFPA also provides plenty of resources, including activities, games, and videos for children to learn fire safety. It's never too early to help your loved ones prepare for an emergency.

Sources:
https://www.nfpa.org/fpw
https://www.firehouse.com/prevention-investigation/community-risk-reduction/news/21008903/nfpa-fire-prevention-week-look-listen-learn-firefighters