The purpose of pipe marking is to identify the contents within pipes in your facility. This information is important for both maintenance and emergency purposes. OSHA does not specifically state requirements for labeling pipes but it does reference ANSI/ASME A13.1-1956 in OSHA 1910.261, which is now an outdated standard that has been replaced by the 2015 revision.
The need for pipe markers can also be inferred from OSHA's General Duty Clause which states that all employers provide a work environment "free from the recognized hazards that are causing or likely to cause death or serious physical harm".
The updated 2015 revision of ANSI/ASME A13.1 continues to specify the primary and secondary means of identification, but made changes to color designations.  Water is now a green/white marker and yellow/black is reserved for flammable and oxidizing fluids.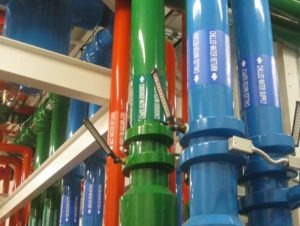 Due to the revamping of the OSHA Hazard Communication Standard several years ago, GHS has now been incorporated into the A13.1 Standard. Although it is not a requirement, facilities may incorporate GHS label elements into pipe markers affixed to piping that is connected to containers with GHS labels.
The Standard also specifies that pipe markers be placed:
One every 50 feet on straight runs of pipe (or every 25 feet in congested areas)
Adjacent to pipe direction changes
Adjacent to all flanges and valves
On both sides of wall, floor or ceiling penetrations
If your pipes are not labeled with a compliant ANSI/ASME A13.1 pipe marker you could be subject to an OSHA citation.
Our sister site, PipeMarker.com, offers a wide variety of compliant pipe marker products to suit your needs.