Tamper Resistant SignGuardian™ 10/24 Chain Link Fence Bracket
Note:
For use with 1/4", 7/32", or 3/16" mounting holes.
Bracket Type: Chain Link Fence Bracket for use with 7/32" and 1/4" mounting holes
Also Available:
The SignGuardian Chain Link Fence Bracket features 1-Way R bolts which help deter sign removal by requiring a special tool to install them. Theses brackets work with signs that have 1/4", 7/32", or 3/16" mounting holes.
The unique design allows each bracket to lock into the links of a 2" fence, making it tamper resistant once the securing screw is tightened down. Brackets are manufactured from tough Nylon 6/6 and includes stainless steel hardware for maximum durability and resistance.
This product is available as a package of 4 brackets and hardware for mounting one sign with 4 corner holes, or a package of 20 brackets and hardware for mounting five signs that each have 4 corner mounting holes.
Frequently Purchased Together
Product Information
Details
SignGuardian™ Tamper Resistant Fence Brackets
Attach your signs to any 2" chain link fence with our new SignGuardian™ brackets. These unique, patent pending, tamper resistant brackets are easy to install from one side of the fence and help prevent sign theft.
SignGuardian™ brackets are made of nylon 6/6, which is extremely strong.
Lock on Feature™ holds the SignGuardian™ securely to the fence mesh and it becomes tamper resistant once the sign or banner is installed.
Lock on Feature™ is inaccessible behind installed sign.
Nut is locked inside slot.
Installation Process when Mounting PARKING or TRAFFIC Signs to a fence: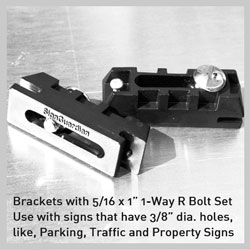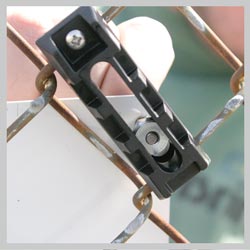 Reviews