Stop For Pedestrians In-Street Crossing Sign
28lb. Rubber Base
An Stop For Pedestrians In-Street Crossing Sign has informational messages or images for traffic and pedestrian safety concerns. An Stop For Pedestrians In-Street Crossing Sign is a helpful resource to help protect the health and safety on roadways, and is not a substitute for required protective measures for reducing or eliminating hazards.
Product Information
Details
Stop for Pedestrian Panel
36" x 8" Vertical Panel Barricade Stop for Pedestrians with 28lb. recycled rubber base.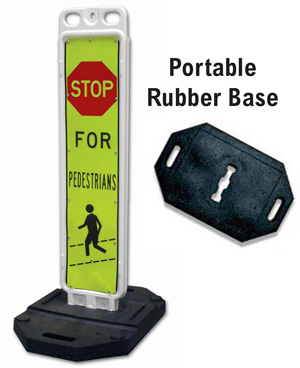 This Panel is Double Sided (same information printed on both sides)
This Pedestrian Crossing Panel Does Not comply with MUTCD Guidelines - We recommend its use Only in Parking Lots and / or Private Facilities
Durable blow molded polyethylene panels and recycled rubber bases.
To assemble, simply step and lock the vertical panel into the base.
For transportation and storage, both the panels and bases can be easily separated and stacked.
The panel separates from the base when impacted by a vehicle.
The panel face is recessed to minimize abrasions and scratches to the expensive reflective sheeting.
Bases are made from 100% recycled rubber( Weight 28 lbs.)
Made from 100% recycled rubber, the base incorporates two easy-grip carrying handles.
On the under side of the base, there are four raised anti-rotational foot pads to minimize movement from wind, or turbulence from passing vehicles.
Panel Dimensions: 10" wide x 36" high x 2" thick Yellow/Green Diamond Grade Reflective Sign (Stop for Pedestrians)
Rubber Base Dimensions: 17-1/2" wide x 27" long x 3" thick x 28 lbs.
Reviews