Zephyr Rubber Base Stand for Roll-Up Signs
NCHRP-350 Approved
Item #

X4579

Compliance

NCHRP 350 Approved
Methods of Mounting Signs Other Than on Posts
MASH 2016
Note:
Latch brackets hold the sign in place by way of the rectangular plastic pocket. Universal brackets will fit all standard 1-1/4 wide fiberglass ribs.
View and compare our sign stands
The Zephyr Rubber Base Stand for Roll-Up Signs is constructed of a steel plate molded into a 38 pound skid resistant rubber base, designed for use with roll-up signs only and is NCHRP-350 approved. It is stable enough for windy conditions and two molded grab handles on the base allow for easy carrying. This stand is available with a latch type bracket that allows you to easily slide the plastic corner pocket of roll-up signs into the bracket and lock them into place, or with a universal bracket that holds the rib cross brace of the sign . Removal of the sign from the latch bracket is as easy as the push of a lever. Removing the sign from the universal bracket is done by unscrewing the clamp that holds the rib in place. The mast can be easily folded down to allow for storage and for stacking multiple bases on each other. It can accommodate 36" and 48" roll-up signs and displays signs 12" off the ground. This roll-up sign stand is ideal for slow speed roadways in city and suburban areas for utility work and tree service.
Frequently Purchased Together
Product Information
Compliance
When to Use 36″ and 48″ Temporary Warning Signs
According to the MUTCD:
| Type of Roadway | Sign Size |
| --- | --- |
| Conventional Road | 36 × 36″ |
| Freeway or Expressway | 48 × 48″ |
Transportation engineers may find this answer acceptable since they have a deeper understanding of the MUTCD than most, but not everyone has this knowledge. Luckily, definitions of these terms are provided to help make some sense of what they are trying to convey. Here's how the MUTCD defines each of those types of roadways:
"Conventional Road" is a "street or highway other than a low-volume road, expressway, or freeway."
"Low-Volume Road" is a facility lying outside of developed areas of cities, towns, and communities, which serves fewer than 400 vehicles per day on average. A low-volume road shall not be a freeway, an expressway, an interchange ramp, a freeway service road, a road on a designated State highway system, or a residential street in a neighborhood.
"Expressway" is a divided highway with partial control of access.
"Freeway" is a divided highway with full control of access.
Still confused? It's not just you. Generally speaking, if the road is a divided highway with a concrete barrier or median, a 48 × 48″ sign will be required. A 36 × 36″ sign can be used on all other types of roadways.
Details
* Sign Height: is measured from the ground to the bottom of the sign.
Benefits / Features

MUTCD compliant and NCHRP-350 approved when used with roll-up signs.

Supports 36″ and 48″ Roll-Up Signs

The weight and footprint of the rubber base prevents the stand from tipping or "walking" in windy conditions

The Zephyr portable sign stand is constructed of a steel plate molded into a recycled rubber base. Two molded-in carrying handles allow for easy movement and placement of the Zephyr stand.

Easy to use – simply release the level and raise the mast to lock it into the upright position. No further adjustments are necessary.

The Zephyr low profile sign stand takes up very little storage space in the truck. Stacking lugs are molded into the base for easy transport and storage. The vertical mast folds down and locks in place to minimize damage during loading, transporting, and unloading the stand.

The rectangular plastic pocket at the bottom of the sign allows for quick and easy mounting of sign to stand. Just insert the corner pocket and press down. The sign automatically locks in place. To remove the sign, simply lift the release lever. The large rubber base is skid-resistant and is stable enough to remain in place, even in windy conditions. Zephyr "spills the wind" without the use of bulky springs.
Application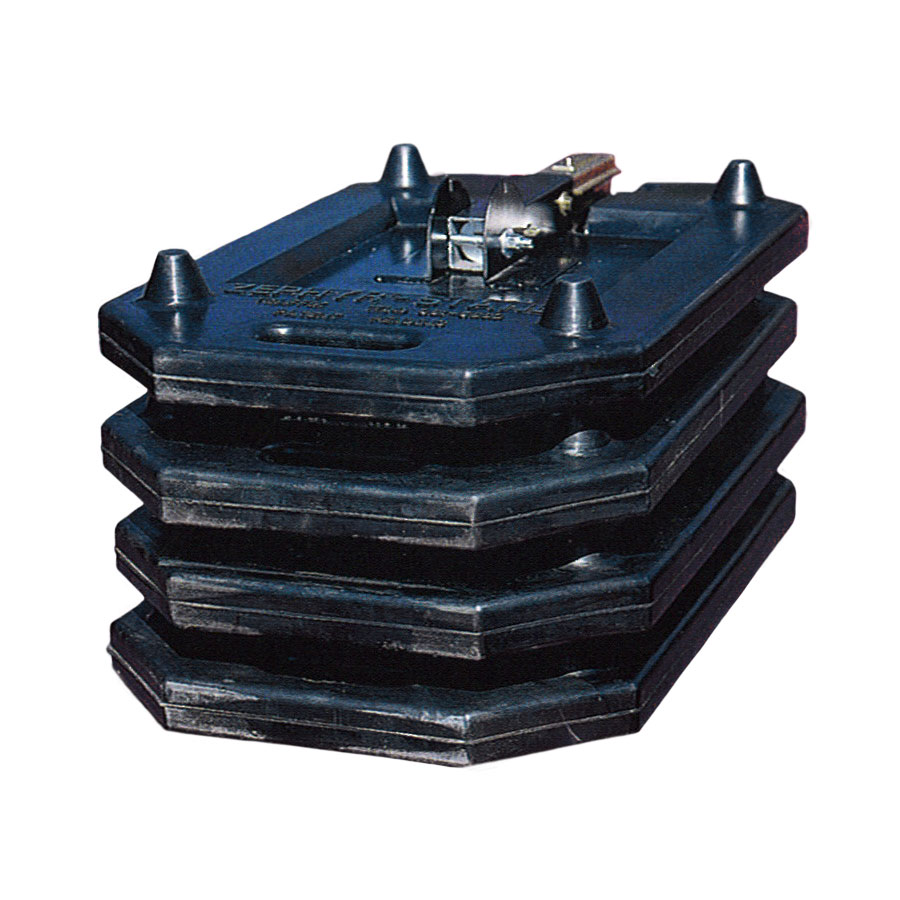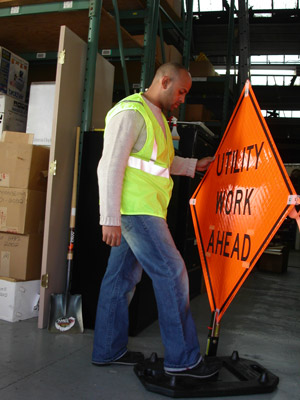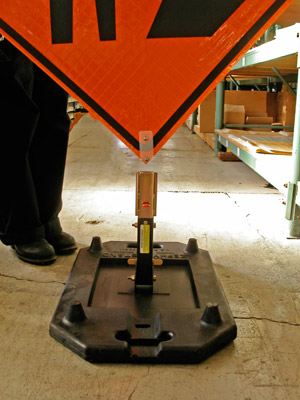 ---
MUTCD Compliance
2009 Edition Part 6 Figure 6F-2. Methods of Mounting Signs Other Than on Posts
The fourth example shows an orange diamond-shaped sign with a black border and letters with the words "UTILITY WORK AHEAD" in three lines mounted on a vertical pole that is mounted on four horizontal supports. The distance from the bottom of the sign to the bottom of the supports is labeled as "1 ft MIN. above the traveled way." At the top of the sign, three orange flags are shown mounted equidistant apart from each other on short staffs that extend out from the top of the vertical pole at 45-degree angles.
Reviews